Aly Tadros 10-18-13 (Live @ Rockwood Music Hall)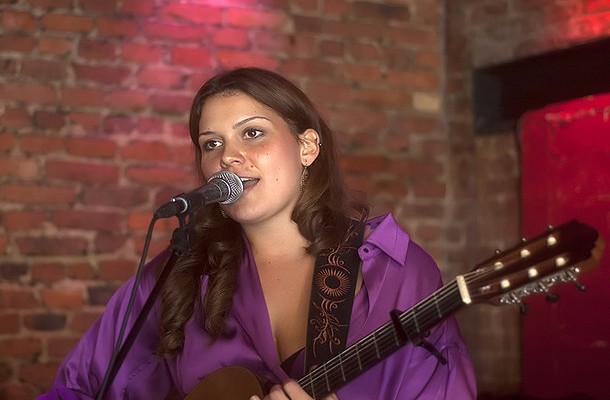 My next scheduled stop on Day 4 had me heading back to Rockwood Music Hall albeit Stage 1 this time for the Monarch Artists CMJ 2013 Showcase. The main objective was to see my friends Wyatt. However when I arrived, the schedule was a bit behind so I ended up catching the prior act Aly Tadros. Can I just say how lucky I am that I did? Normally I don't do separate reviews for the same show but I am making an exception.
Aly describes her music as "not your mama's folk music" which I must say is completely true. The 8 song set started off with Escape which was described as inappropriate. The song was catchy & a nice start which everyone appreciated as it was noted after by Aly. This was followed up by Bad Thing which was also a nice song even though it did not hit the spot for me.
However my spot was definitely hit with the third song of the set titled Alberta. I immediately fell in love with this song so much so that I kick myself for not video taping it. The repetitively haunting guitar mixed with Aly's voice was heavenly.  I could listen to her sing this song 24×7 & never get tired of hearing it!
The tone became a bit more upbeat with Sweet On Me which had me feeling like I was seated at an outdoor cafe on a beautiful Sunday enjoying life. Silence & The Truth continued that vibe with Aly's powerful voice really shining here as she echoed that she had "and no time to waste". The ending was absolutely beautiful & powerful as she sang "It's a new kind of being alone / When doubt is all you know".
My other immediately fall in love moment occurred when she played Swingset. This song featured an irresistibly whimsical & innocent guitar work that melted in with Aly's heavenly voice perfectly. This was another moment when I kicked myself for not video taping it. This is another song I could listen to her sing 24×7 & never get tired of especially if done solo!
The set ended with a fun number in It All which was irresistibly catchy & easy to keep humming to yourself long after it was done which I am sure a number of people did including yours truly.
I have to say that this is a time I am extremely thankful for having arrived early mixed in with the schedule being behind as I might have never heard Aly Tadros which would have been an absolute shame. She has definitely made a fan of me & I look forward to seeing her a ton in the near future.
Setlist:
Escape
Bad Thing
Alberta
Sweet On Me
Silence and The Truth
But A Memory
Swingset
It All
P.S. Now you don't have to just take my word how amazing this set was, here is your chance to actually listen to the whole thing! You may do so for the ridiculously deal of a lifetime price of $4.99 by clicking here. I did it & do not regret it & neither will you. Alberta & Swingset alone are worth 10x the price!