Amanda X 04-19-14 (Live @ Shea Stadium)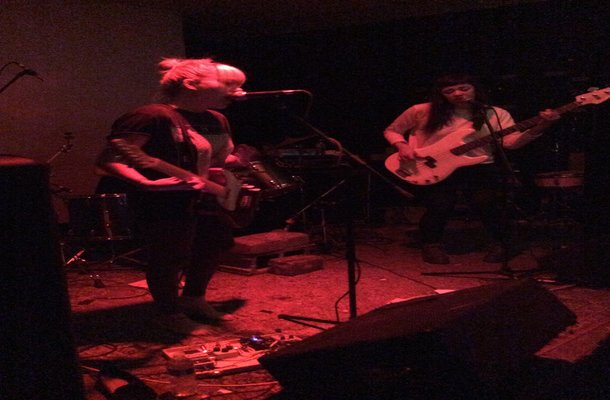 My last stop on Record Store Day 2014 had me making a trip out to Shea Stadium to see Amanda X. I discovered the 3 piece Philadelphia-based girl band. As I mentioned in my WBAR-B-Q review, I discovered the band earlier that day when browsing who was playing as I had a gut feeling to check them out.
What sold me on them was a video of their live performance at The Archeron from January. Originally I was supposed to head out to Brooklyn Night Bazaar to see Beach Day. However after finding out what time Amanda X was playing, I made the decision to go see them & it was the best decision I have made in a long time!
I arrived shortly after 9:30 and heard what I thought was them playing. It turns out that their set time was changed a second time so I was a bit early. So I had the chance to check out the Toronto based Weaves. They had a great energy & vibe about them to go with some interesting lyrics. I would be up to checking them out again in the future.
Next up was Slothrust whose 8 song set absolutely blew me away. How much so? The very first words out of my mouth to lead singer & guitarist Leah after the set was "I am in love with you" which she thanked me for.
The energy & fever they play with was breathtaking. Whether it was Leah killing it on guitar, Kyle with some great bass or Will pounding away like his life was on the line on the drums, everything they did was magic.
I loved every song of their set but I will comment on two in particular. For starters, Enter, Rejoice, And Come In is already on my list as one of my favorite songs ever. Immediately after they finished playing it, I turned to Carolyn & told her this is my favorite song which I can't wait to play on guitar.
Once I heard Kyle's deep bass intro to Crockpot, I knew this was a song that would also become a favorite of mine. Leah's vocals kick in with the powerful line of "Some men purchase real dolls to fill the void", I told myself this is going to be something amazing. When the first chorus hit with the powerful drums & wall of guitar sound, I was in heaven.
I was so impressed with their set that I will be making it to their next show on Saturday even though I have commitments that night. So that should tell you how I really feel about them!
Setlist:
Intro
Cubicle
7:30 AM
Incompetent
Enter, Rejoice, And Come In
?
Crockpot
Beowulf
Now it was finally time to see Amanda X. While I came to see them initially, I knew they had a lot to live up to after the previous set. I can say they definitely did it for me. They powered through a great 8 song set which seemed to feature material from an upcoming album.
What really stood out for me throughout this set was how strong Cat Park is on guitar. I usually don't come across too many who can rock out on a telecaster but she definitely did her thing even with a finger that was cut pretty badly during their WBAR BBQ set.
The only complaint I have is the horrible mix for their set as the vocals were absolutely drowned out which took away from what was a really great set. I can't wait to see them again when I can actually make out more of the lyrics to go along with the great guitars, Kat Bean's bass & Tiff Yoon's drums. I definitely suggest you check them out.
Setlist:
Nothing Wild
Golden West
Dream House
Paranoia
Trouble
Parsnip
Low & Mean
Guatemala