Beach Day (Live @ Shea Stadium 06-19-13)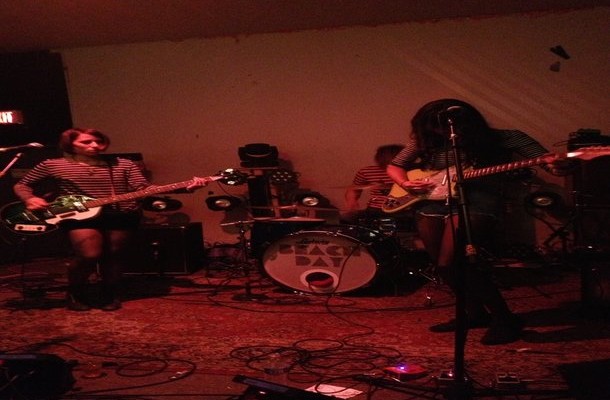 Going into June 19th, one thing was clear & that was absolutely nothing would make me miss the album release party for Beach Day. I had been looking forward to seeing them live again as I had missed their last show in town plus I knew this show would be extra awesome. The show was originally scheduled for Glasslands but ended up being moved to Shea Stadium which I was happy about.
I get there a short while before they hit the stage. My video camera was ready to go as I already knew what the first song would be & it so happened to be the song I am obsessed with at the moment, Am I The Only One (thanks for heads up Kimmy!). I was hoping it would sound as amazing as it did on the record & it sure did. This was a great opener as it perfectly set the tone for the rest of the night. Next up was the song Beach Day which I first heard at Northside 2012 & it still kicked ass a year later.
A Little Weird was super catchy but that could be said about every song in their catalog. Who couldn't bop their head to Kimmy singing "I was always just a little weird" from the outset. Come Back To Me & Seventeen were nicely placed in the middle of the set to slow things down a bit before building the energy back up for the last part of the set.
The pace definitely picked up with We've Gotta Go which always hits the spot for me especially right after the minute mark where they just let loose & really get into it. Kudos to Skyler who especially looks like he is having a blast during these moments with his hair flopping in the air as he pounds away.
Next up was probably my favorite song to see them do live & that is Stay. Like I mentioned almost a year ago, this song reminds me of Keep On Running by Spencer Davis which happens to be one of my favorite songs ever. The best part is the extended jam towards the end which sees Kimmy, Nat & Skyler let loose which is always a blast to see. One day I'd love to see them end a set with an extended version of this song as it would rock so hard! The night ended with 2 more tracks from the album, Boys & Walking On The Streets which were awesome as well.
Every time I see Beach Day, they just further cement to me why they are one of my favorite acts to see live. Their sets are always filled with a ton of energy & undeniable fun that makes you forget everything else while just living in the moment. While they are not based in NYC, I can take solace in the fact that they frequent here often & are a must see every time. Thanks again for a great night Beach Day & an even bigger thanks for being great people!
Setlist:
Am I The Only One
Beach Day
Little Red Shoes
Trip Trap Attack
A Little Weird
Come Back To Me
Seventeen
We've Gotta Go
Stay
Boys
Walking On The Streets
Am I The Only One:
Beach Day:
Come Back To Me:
Stay:
We've Gotta Go: