Beach Day 10-16-13 (Live @ Pianos)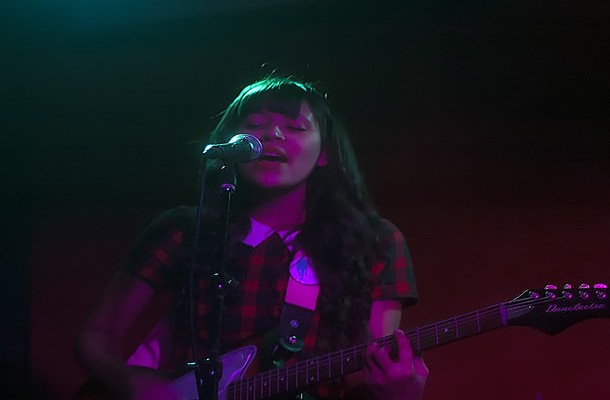 It would not be CMJ for me if I did not find a way to see Beach Day! I was looking forward to seeing how the band sounded since this would be the first time seeing them without Nat on bass who I totally heart for the record! So I headed over to Pianos for the Kanine Records & SESAC CMJ 2013 Showcase.
The band kicked it off with Am I The Only One, one of my favorite tracks from their 2013 debut album Trip Trap Attack. This is a great choice for an opener as it always seems to set the tone for what will be a catchy & fun filled set. I loved Kimmy's solo as it came off real good & who could say no to her when she asks the title over & over!
Next up were We've Gotta Go & Little Weird which always sound fresh & fun regardless of how many times I hear them. This was followed up by two songs I have never heard before, All My Friends Were Punks & Pretty. While they were catchy, they did not do it for me as I can not see them ever becoming favorites of mine when put up against the majority of their material.
The last half of the show is where it really picked up with a great version of Trip Trap Attack that featured another cool solo from Kimmy. Stay is the track I always find the band just lets loose on especially Skylar who absolutely tears it up on the drums.
Now it was time for Beach Day, the official song of the band you could say as cutely noted by Kimmy. They can't go wrong with having this really cool song in such a position. They nailed it perfectly on this afternoon as I could not help but sing the song to myself throughout!
I was quite sad when it was announced that they were up to their last song as I wanted more! However they ended it in style with a great rendition of Boys. I could never get tired of hearing Kimmy tell us how all she needs & want is boys!
One thing I know is that no matter how many times I see them, I can never get enough Beach Day! The infectious feel good energy is undeniable even on the harshest of days when you probably are longing for the summer to come back. While they can't make that officially happen, they sure do come closer than anyone ever could!
Setlist:
Am I The Only One
We've Gotta Go
Little Weird
All My Friends Were Punks
Pretty
Trip Trap Attack
Stay
Beach Day
Boys