Belle Mare 06-13-14 (Live @ Spike Hill)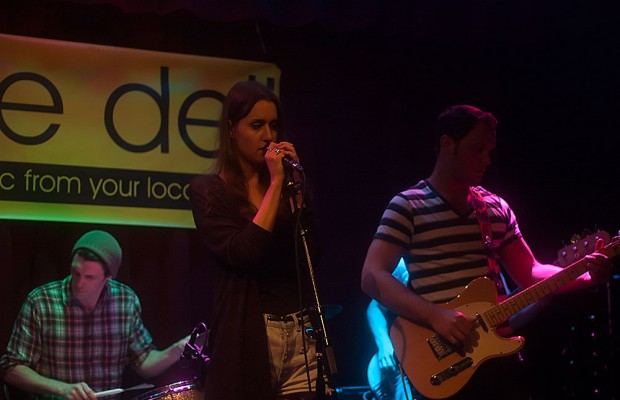 The first stop on day 2 of the Northside Festival had me venture to Spike Hill to check out the "Rootsy Stage" for The Deli Magazine's B.E.A.F. (Best Emerging Artists Fest) at Northside. Originally the plan was to see Cassandra Jenkins but I arrived too late. Instead I caught the Brooklyn-based Belle Mare.
I can picture listening to Belle Mare on a very low key day in a room alone to your thoughts which goes along with their description of being dream pop layered with subtle textures. The vibe was on full display during their six song set.
The first 4 songs of the set were from their 2013 debut EP The Boat Of The Fragile Mind with the opening number being The City which was my favorite of the set. Tara's keys helped give the song a nice complete feel.
The final 2 songs of the set were brand new & started off with Cicada whose repetitive guitar work by Thomas really did it for me. The closer was Every Night which had a little pick up of pace at points which were pretty good. I look forward to hearing studio versions of these songs in the near future.
Overall I left highly impressed by the sound of Belle Mare as they have a solid core sound that keeps you interested throughout. My only complaint would be that lead singer Amelia needs to loosen up on stage as she came across as very tense.
I do plan on seeing them in the near future & suggest you do as well.
Setlist:
The City
Charade
All This Time
Rehearsed Lines
Cicada
Every Night
Watch their entire set below: