Best Coast 06-13-15 (Live @ 50 Kent)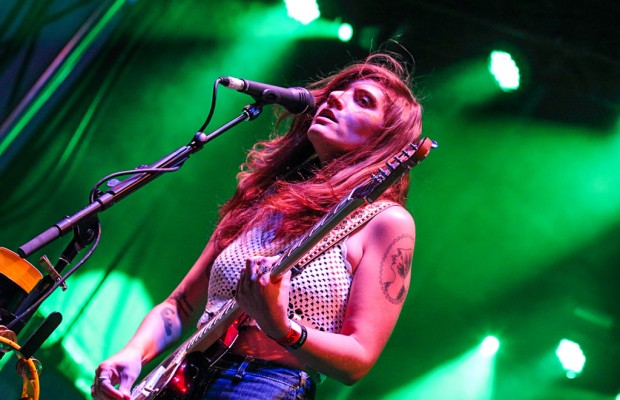 Anyone who knows me can vouch for my obsession with Best Coast. So when they were one of the first acts announced for the 2015 Northside Festival, I knew nothing would keep me from seeing them live for the first time. I remember when I first saw the announcement, I immediately called Carolyn as she loves her some Best Coast just as much.
We made our way to the show & arrived literally just on time as they started playing The Only Place, the opener of what would end up being an epic 20 song set. This was followed by lively versions of Heaven Sent & Fine Without You, two tracks from their latest album California Nights.
Fans were definitely feeling the high energy that Bethany Cosentino, Bobb Bruno & the rest of the band were giving off. Things picked up when we finally got a track from their much celebrated debut album Crazy For You in the form of The End which rocked super hard on this night. After a mood changing version of Do You Love Me Like You Used To, we got a nice version of the title track of the aforementioned album.
Fast forwarding a bit through the set, we got to hear a kickass version of the self-titled single California Nights from their new album. This was followed up by a performance of When I'm With You, the bonus track from their debut album Crazy For You.
I was pumped when they played Fading Fast which happens to be one of my favorite tracks from California Nights. Sadly I was hoping they would play my other favorite in Wasted Time but I suspected due to how different it is from their normal sound that it would not be.
They ended up closing the night with Boyfriend, a song that Bethanny claimed the majority of people were probably waiting for. She was 100% on the money as the crowd erupted into a frenzy when the opening notes were played. You could hear so many sing along to every word, it definitely was a magical moment for everyone in attendance.
My only complaint if I had to have one would be not hearing more from their 2013 EP Fade Away which arguably is their best release to date. However when all is said & done, I can't help but be happy that I FINALLY got to see Best Coast as it had been on my wishlist for the last few years.
Setlist:
The Only Place
Heaven Sent
Fine Without You
The End
Do You Love Me Like You Used To
Crazy For you
No One Like You
So Unaware
California Nights
When I'm With You
I Don't Know How
Dreaming My Life Away
Fade Away
Fading Fast
In My Eyes
Feeling Ok
Goodbye
Jealousy
When Will I Change
Boyfriend