Blushed 06-08-18 (Live @ Pet Rescue)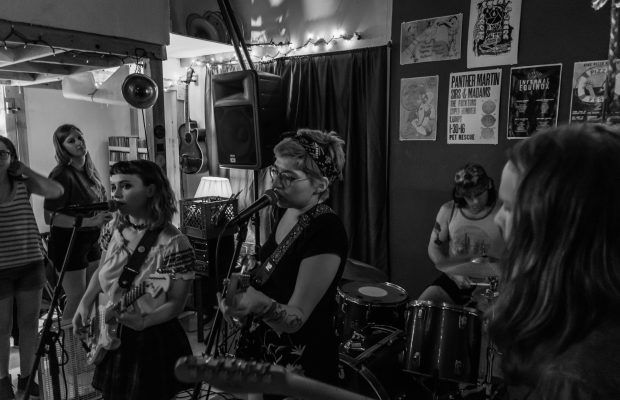 My last piece of business for day 2 of the Northside Festival saw me heading out to Pet Rescue for the first time ever to catch the awesome showcase being put on by good how are you / Paper Scissors Media which featured an awesome lineup of artists from NYC & Philly.
The main objective was to check out Secret Nudist Friends again, who I discovered last year at Muchmore's during Northside & see Blushed for the first time.
The 4 piece band made up of Missy Pidgeon (Guitar / Vocals), Alyssa Milman (Bass / Vocals), Matty Klauser (Drums) & Dan Leinweber (Guitar) put on a high octane set which I & everyone else in the room was into from the outset.
I was very happy when they played Weak which happens to be their debut single out. The performance definitely hit the spot especially the smoothness of Missy's vocal harmonies in the verses & chorus to the awesome roars towards the end!
The 90's grunge vibe on It's So Cool definitely stood out to me especially since it is my favorite decade of music. I definitely love the dark melodic tones of the song where Matty's drum work really shined.
Philadelphia is definitely lucky to have such an awesome band to see often as if I was based there, I would definitely see them as often as I humanly could.
P.S. I must give a shout out to Busy Bee Project & Secret Nudist Friends who put on highly entertaining sets that I regret not getting any footage of.