City Riots 10-19-13 (Live @ The Delancey)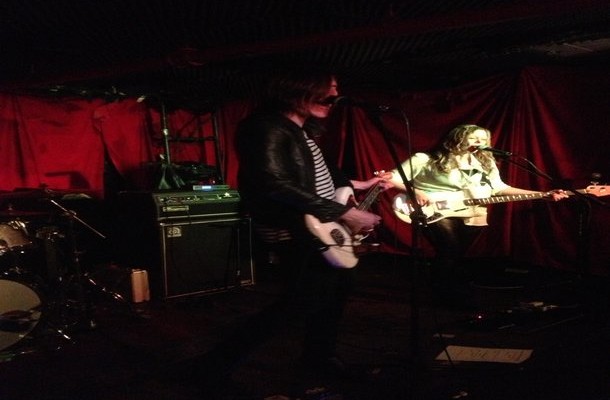 It would not be CMJ for me if I did not find my way to The Delancey on the final day for the famous Aussie BBQ. The routine of going to see a specific artist playing the upstairs & not being able to do so due to crowding & ending up downstairs to discover an amazing artist by accident seems to play itself out every year. This was no different as instead of seeing Gossling upstairs, I ended up catching City Riots & I am glad that I did.
Obviously I did not know what to expect as this would be my first time hearing them. The only thing I could count on is that they would be good because the Aussie BBQ always has top talent playing. The band opened up with She Never Wants To Dance which featured a real nice bass & drum intro. This lead straight into Matchsticks which had a real catchy pop intro to it. The catchy guitars & backup vocals from the bassist  made this a set standout for me.
Now it was time for the first appearance of a track from their 2012 debut album Sea Of Bright Lights as they played Catch The Sun. The chorus really stood out with the catchy guitar hook that fit around the lyrics of desperation. Next up was Wait For You which featured a nice repetitive guitar beat in the verses that I thoroughly enjoyed.
After a couple of more solid tracks, we reached the finale of Lonely Hearts which was a perfect choice to end the set. The heavily packed room really was into this song as I saw quite a number of people dancing to the track as it had that real upbeat yet rock out feel to it.
I was very impressed with City Riots as it is rare for me to say I really liked every song of the set. The entire band did a great job & an extra special kudos to the bassist as her background vocals really made a number of the songs for me personally. Hopefully they will come back to the U.S. sometime soon to play. If they do, go out & see them as you will have a great time.
Setlist:
She Never Wants To Dance
Matchsticks
Catch The Sun
Wait For You
It's Been A Long Time
Turn
Lonely Hearts