Conscious Coupling Showcase 10-24-14 (Live @ The Silent Barn)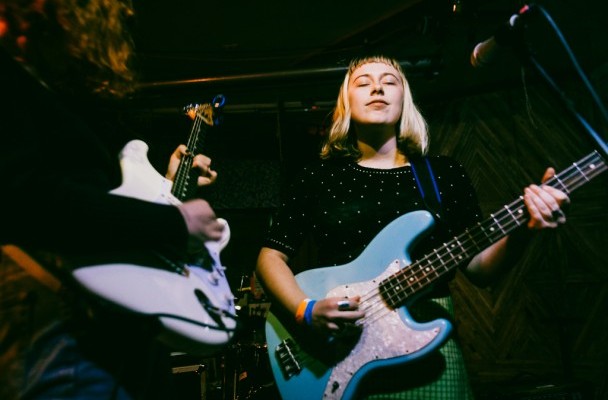 During my CMJ tenure, I usually sneak off to Brooklyn to catch an under the radar showcase & this year was no different as I made my way out to The Silent Barn in Bushwick for the Miscreant & Father/Daughter present: Conscious Coupling Showcase.
My main reason for coming out was to see Girlpool which you know by now is one of my current obsessions. However this lineup also featured another band I enjoy in the Philadelphia-based Amanda X.
I thought I arrived just on time to see the aforementioned Amanda X. However the show was running late so I got to see the band scheduled before them which was Boston-based Bent Shapes. I must say that I actually liked their set a lot as it featured a number of catchy & memorable songs. I will definitely look into them more & try to see them again when they are in town.
Next up was Amanda X who as usually delivered a solid set which featured some of my favorites including Paranoia, Low and Mean, Dream House & Guatemala. I absolutely love the passion that Kat sings with as she looks to be feeling every word that comes out of her mouth as it definitely adds to the performance.
Girlpool was up next & I could not wait to see them again. I could not hold back the smile on my face when they opened with my favorite I Like That You Can See It which sounded amazing!
Ideal World 'was mesmerizing as it literally hooks you from the opening note. This was followed by the trio of Sluthmouth, Love Spell & Jane. I can't think of 3 songs that go better together when you think about the lyrics.
Chinatown sounded fantastic as its slow soothing tone hit the spot. This was the first time I got to hear Emily & I must say it is a beautiful song that has potential to be a crowd favorite for years to come.  They ended a fantastic set with Cherry Picking which the packed house really enjoyed.
One thing is for sure, Girlpool made a great impression on the crowd & picked up some much deserved new fans!
Girlpool Setlist:
I Like That You Can See It
Blah Blah Blah
Plants And Worms
Ideal World
Slutmouth
Love Spell
Jane
Chinatown
Paint Me Colors
Emily
Cherry Picking
Photo Credit: Erik Erikson