Courage My Love 10-16-13 (Live @ Arlene's Grocery)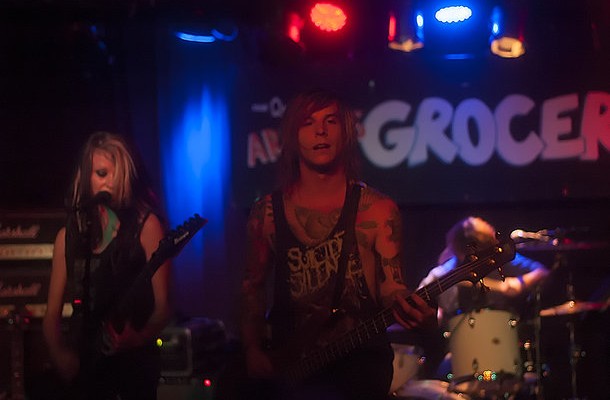 In the late afternoon while taking a brief break from CMJ madness, I was IMR's Carolyn & we were discussing potential acts to see for the night. I knew what my last show of the night would be but anything in between was up in the air. She came across Courage My Love & instantly fell in love with their sound.
I was pretty impressed with what I heard myself. Unfortunately she could not make it but I took the liberty of stopping by Arlene's Grocery for the Canadian Blast CMJ Showcase to check them out.
The impression they had left when I heard them online was just a taste of what I ended up receiving after watching their entire set. While I admittedly can't name one song that they did & was unsuccessful at getting a setlist from them, I can't help but say how damn good this threesome is.
For starters, the nonstop high octane energy from guitarist & vocalist Mercedes Arn-Horn was breathtaking to watch & it definitely carried over with her twin sister Phoenix Arn-Horn on drums & friend Brandon Lockwood on bass. They had the entire crowd going from the outset & clearly had some knowledgeable fans who went crazy at multiple opening riffs of what clearly were songs they loved. Kudos to these two girls who could not have been any older than 13 who were dancing & rocking out big time.
However my biggest shout out has to go to this one guy up front who danced his ass off like this was his last day on earth. While I could not help but laugh at how bad his dancing was as it looked like he was spazzing out, I absolutely loved the fact he did not give a damn how he looked as his main goal was to enjoy himself & that he did. The couple standing next to me who randomly jumped in to dance off with him individually at different times were  super cool as well.
All of this fun was because of the energy of Courage My Love who were bringing it every second of their set. I am glad that one day when I hear people talking about this band, I can say I was there for their U.S. debut & enjoyed every damn second of it!