Cultfever 02-26-14 (Live @ Baby's All Right)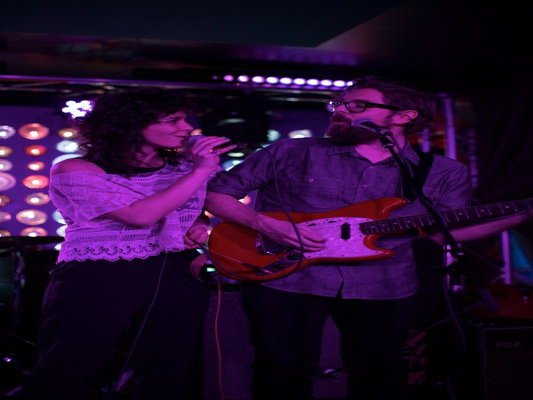 Let me first start off by apologizing for taking way too long to write a review of what was an amazing set!
As regular readers know, Cultfever is not only one of my favorite artists locally but in the entire world. I brag about how amazing they are to anyone & everyone who will listen. On this night, I not only had fellow IMR rep Carolyn come along, I also had my good friend Melanie check them out as they played Baby's All Right.
The duo of Joe Durniak & Tamara Jafar are pure magic together & their set on this night continued to show why. They opened up with Farm which had a great pop to it & was a great choice for an opener.
They followed it up with one of my newer favorites in Strangenecks whose soothing vocals flow so perfectly over the chill tempo & vibe of the song (especially during the verses which is my favorite part).
Spill was especially strong on this night as Joe's guitars & Tamara's vocals flowed perfectly which were backed by strong drum work. Duress felt like it had an extra buzz to it like I had not heard before. The best part was the harmonies between Joe & Tamara during it.
I am willing to bet anything that Collector is one of Tamara's favorite songs to perform as she enjoys moving all over the stage during it. I was waiting for this as she was reserved in her stage movement which I have come to expect from her. How could one not want to move around to this song though as it is so damn catchy!
Rouge is a song that was meant to be played live as it really gets the juices flowing. As usual Joe's guitars & vocal intro really set the tone for a great performance of it. The fast paced ending always hits the spot.
Now we get to my favorite part of the show which is when I get to hear one of my favorite songs ever Knewyouwell. The soothing yet haunting vocal intro from Joe gets me every time. I love this song so much that it really is hard to put into words how amazing it sounded. As much as I enjoy the album version, you can't feel the greatness of this song until you see it performed live.
The show ended with Animals which had an extra punch to it which helped end the set perfectly.
I along with everyone in the crowd definitely were yearning for more as Cultfever was on fire throughout. I can happily report that my friend Melanie loved them & can not wait to see them again. This puts a huge smile on my face as it further cements what I already know, this band needs to be heard all over the world!
Setlist:
    Farm
    Strangenecks
    Chicken
    Boys, Girls
    Spill
    Duress
    Collector
    Rouge
    Welcome
    Knewyouwell
    Animals
Normally I have a 2-3 songs from their set recorded to video. However I have a special treat as I recorded the entire set which you can see on Youtube by clicking here.
P.S. Props to Baby's All Right for having a nice & professional looking venue which I plan on visiting a lot of in the future.