Cultfever (Live @ Spike Hill 06-16-13)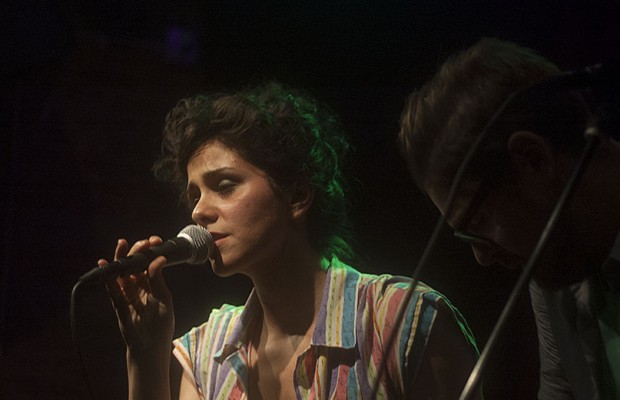 My first stop on the final day of Northside 2013 had me at Spike Hill. The original plan was to go see Leda who I had discovered during the 2012 Northside Festival. Unfortunately I was tied up with some station business & could not make it. However I stopped by anyhow to see what else was going on.
When I walked in, Ball Of Flame Shoot Fire were playing. I heard about 60 seconds of it & walked out as I had zero interest in subjecting myself to that torture anymore. So while outside forming my game plan for the next couple of hours until I had to be at Cameo Gallery, I decided to go back to Spike Hill as I had a hunch I'd discover a new artist or band that would catch my imagination. Once again my instincts were spot on as I am officially in love with Cultfever.
I had no idea what to expect when I saw the 3 of them on stage. The minute Joe started playing the guitar on the opening track Knew You Well, I was officially hooked. The duo of Joe & Tamara absolutely floored me with their 10 song set which I loved outside of the second song Farm as it just did not click with me. Duress hooked me with a nice rhythm along with perfectly timed subtle & sultry vocals.
By time they finished Strangenecks, I could not help but think I had heard it somewhere before. It turns out that I did as it was featured on MTV's Awkward which just happens to be one of my favorite shows. Rouge was an in your face number that really showcased their drummer Takenoshita who is the drummer for their live shows.
Most of the tracks that were played were from their highly acclaimed self titled 2011 debut. However they did manage to play their current single Animals as well as the B-Side Chicken which is available on the Animals 7". I hope their new album comes out soon as I need more of this band as they are amazing. Do yourself a favor, if you can check them out live do so as I am pretty confident you will become a huge new fan as well!