Cultfever 10-18-13 (Live @ The Living Room)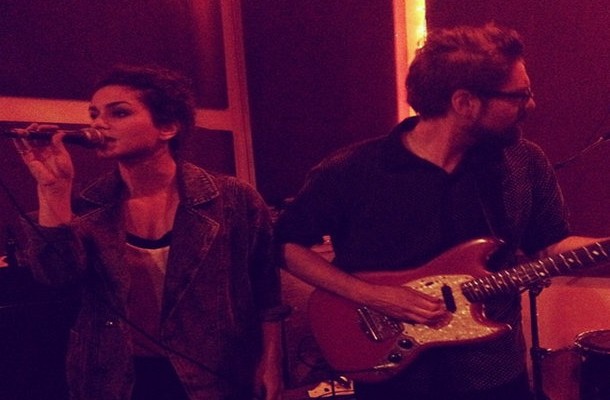 Next up for me was the MyFreeConcert & Buzzchips CMJ 2013 showcase at The Living Room to see 2 0f the coolest people I know, Tamara Jafar & Joe Durniak who make up the amazing duo known as Cultfever. As many of you know, I have been obsessed with this band since I happened to discover them in June at Spike Hill for the Northside Festival. So when I saw they were playing CMJ, I knew that nothing would keep me from seeing them again.
When I arrived at the venue, I came to find out that they were really behind schedule as Lily & The Parlour Tricks were just starting their set. The room was jam packed as I could barely see anyone stage & I am 6'4″! Eventually they were done & I did the infamous follow the next act to the stage trick to get to the front. I got myself in prime position for what I knew would be an amazing set.
They started off with my personal favorite Knewyouwell which is a song I could hear on repeat for weeks on end & never get sick of it. The soothing yet haunting vocal intro with the guitar kicking in shortly thereafter always hits the spot for me. Joe's guitar feature in the middle really added to it on this night. I am always torn as I know this song is a perfect opener yet I'd love to hear it close out a set as well. Regardless the song is perfect regardless of where it is at.
Farm had a nice buzz on this night especially the nice guitar & drum intro that led into Tamara's magical vocals. Spill is another personal favorite of mine. Besides the awesome feel good vibe that it gives off, I feel it reminds me somewhat of Knewyouwell which I have no complaints about.
When I first listened to Strangenecks on the album, I never had it catch my attention. However when I hear it live, I ask myself how did I miss how awesome this song really is. They sounded awesome on this song as the drums & irresisitibly catchy guitars meshed perfectly with Tamara's fast paced vocals.
Rogue was perfectly placed as it changed the pace with its in your face attitude via Joe's crunchy guitar & Tamara's never ending energy being on display all over the stage. Next up was Animals, the latest release from the band. I really liked how it sounded as I am getting into it the more I hear it.
Unfortunately it was time for the last song which happened to be Collector. The crowd really was into this song with its catchy sing along chorus that would make you smile & enjoy the moment. It was a great way to end what was one of the best sets I saw.
I recommend a good number of artists to see if you get the chance to do so & I stand by every one of them. However I must say if you could only choose one to go see, Cultfever is the one!
Setlist:
Knewyouwell
Boys, Girls
Farm
Spill
Strangenecks
Rouge
Animals
Collector