David Cook 02-22-18 (Live @ (Le) Poisson Rouge)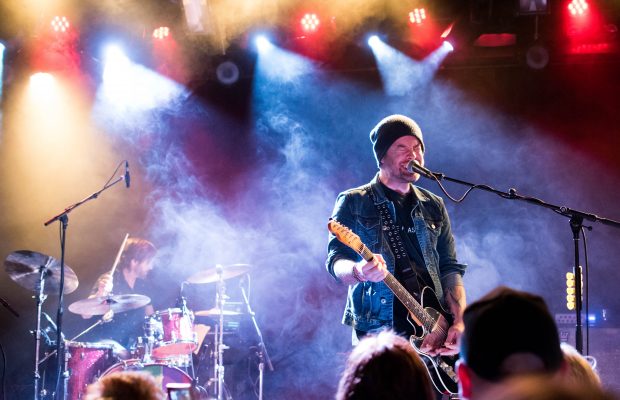 About a week ago I found out that David & I were invited to check out David Cook's sold out show at (Le) Poisson Rouge. I could not contain my excitement leading up to the show even if this would be the 7th time that I was seeing him.
Even though the purpose of this show was to help promote his newly released EP Chromance, I could not help but feel very nostalgic about the whole experience. I realize that every time he releases a new album or happens to play NYC, I ended up right there to experience his amazing music up close & personal. What made it even better is that I got to experience this with one of my best friends who had never seen him before.
The show was everything I thought it would be as the sold out crowd were able to enjoy how the new songs sound live as Circles, Ghost Magentic & the Phil Collins cover of Another Day In Paradise which not only emphasized his fantastic vocal range but show that Chromance will be a big hit among his fans. I especially have to acknowledge how heartfelt his cover of Another Day In Paradise was as he put his own spin on it that touched everyone in the crowd.
I must say David's classic banter was on point throughout as he playfully & skillfully engaged the crowd throughout the set which is always a staple that long term fans come to expect. I was happy that he brought back the famous disco ball moment which gave flashback to many of us in the crowd to his show last year at Knitting Factory. How can you not get a great laugh at him trying to play matchmaker.
A completely unexpected moment was Jeffery Scott's quick rendition of the Journey classic Don't Stop Believin' which was quite the impressive lead in to Laying Me Low, one of the best songs from his previous album Digital Vein.
Another unexpected moment for me was when he briefly played Time of My Life from his self titled album post American Idol. I have not seen him play that song since his 2013 show at Irving Plaza which was quite a magical moment I will never forget. Speaking of American Idol, David took a moment to give a heartfelt message expressing his gratitude to his fans that have been with him since the show. I can't believe it has been 10 years since I frantically used every phone in my house to vote for him that season!
Overall the nearly 90 minute set showcased why seeing David Cook live is one of the best experiences one can have musically as everything from his vocals to the performance of his band mates were so off the charts amazing that no words can truly be strong enough to describe it. I can't wait to see his next show which hopefully will be in the near future especially since he is moving to Brooklyn as he prepares to star in the Broadway hit Kinky Boots!
Check out 6 videos shot in HD 1080p at 60fps for your viewing pleasure!