Dropkick Murphys 06-22-18 (Live @ Forest Hills Stadium)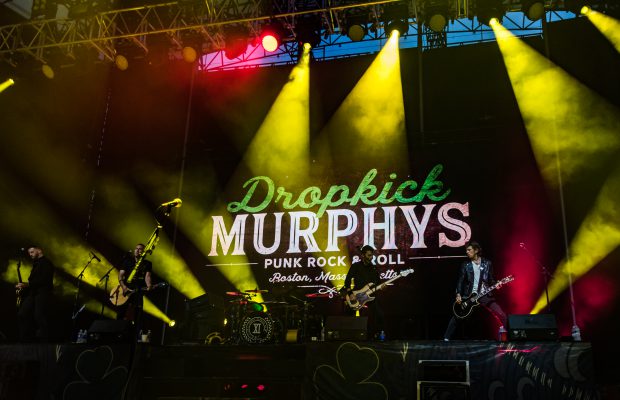 Headlining the all Irish concert at Forest Hills on June 22, 2018 was the wildly popular Dropkick Murphys who played to a packed crowd that received a loud & intense in your face set that every single person expected & loved to the very end!
The band made up of Al Barr, Tim Brennan, Ken Casey, Jeff DaRosa, Matt Kelly, James Lynch played a 21 song set that focused more on newer material (unlike co-headliner Flogging Molly) while throwing in classic fan favorites from previous albums.
This was my first time seeing the band live and I have to say even though it is not the type of music I listen to, I found myself highly enjoying the songs throughout which were fun, catchy & easy to sing along to while taking in the awesome feeling that resonated throughout the stadium on this picture perfect evening.
I definitely can see why they have a dedicated fan base who knew every word to every song while crowd surfing repeatedly throughout including a man dressed up in an all green Irish suit in his 70's at least. I loved his energy as he did not care how old he was, nothing was going to stop him from rocking out and having the time of his life. I also have to give a special shout out to one other woman I saw who must have surfed the crowd at least 20 times throughout the set. Keep rocking it!
If you ever have a chance to catch Dropkick Murphys live, I suggest you do as it is a can't miss fun time that will stick with you forever!
Setlist:
Captain Kelly's Kitchen
The Boys Are Back
Johnny, I Hardly Knew Ya
Sandlot
Famous For Nothing
Blood
Barroom Hero
Caught in a Jar
Buried Alive
The State of Massachusetts
Rebels With a Cause
Paying My Way
Rocky Road to Dublin ([traditional] cover)
Rose Tattoo
Out of Our Heads
Going Out in Style
The Body of an American (The Pogues cover)
I'm Shipping Up to Boston
Kiss Me, I'm Shitfaced
Skinhead on the MBTA
Dirty Deeds Done Dirt Cheap (AC/DC cover)