Flogging Molly 06-22-18 (Live @ Forest Hills Stadium)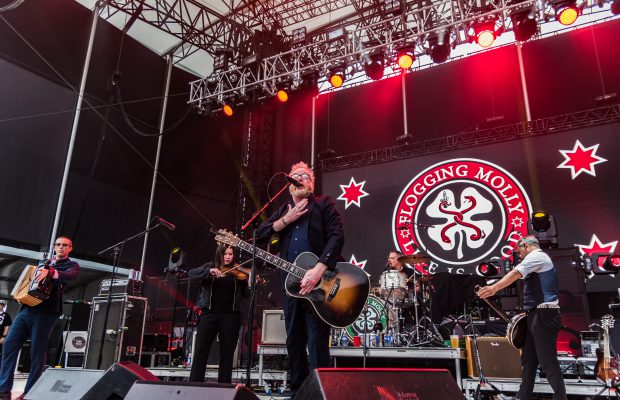 Next up at Forest Hills Stadium, we had co-headliners Flogging Molly hit the stage to thunderous roars from the crowd as it started to become quite full by this point.
The band powered through a 16 song set that featured some newer material but mainly focused on career spanning songs much beloved by their huge fan base. Throughout the show, you could feel the love the fans had for them as they sang all the lyrics to one song after another.
What really stood out to me is how much fun everyone on stage was having as they were reveling in the adoration from the crowd. Some of the songs that got the biggest reactions included Drunken Lullabies, Float, What's Left Of The Flag, The Seven Deadly Sins & the finale Salty Dog.
For someone who has never seen them live before, I was highly impressed with their never ending energy & showmanship which gave you all that you wanted & then some!
Setlist:
 (No More) Paddy's Lament
 The Hand of John L. Sullivan
 Drunken Lullabies
 The Likes of You Again
 Swagger
 The Days We've Yet to Meet
 Requiem for a Dying Song
 Float
 The Spoken Wheel
 Black Friday Rule
 Devil's Dance Floor
 Crushed (Hostile Nations) / We Will Rock You
 If I Ever Leave This World Alive
 What's Left of the Flag
 The Seven Deadly Sins
 Salty Dog