Fruit & Flowers 06-11-17 (Live @ Terra Firma)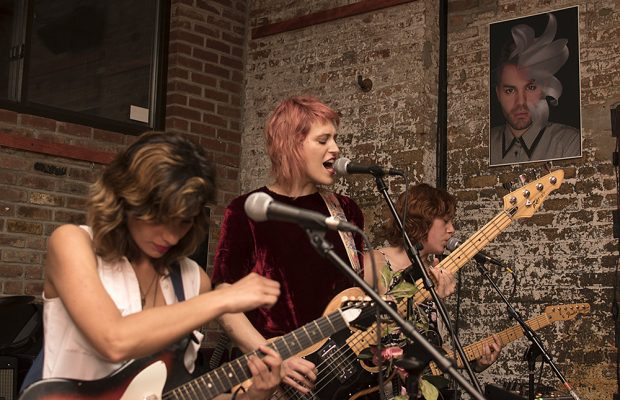 On the last day of Northside, not much was happening in terms of official shows outside of what was happening in & around McCarren Park. So I decided to handle some company business & save my energy for the late night as I headed out to Bushwick for an unofficial Northside Showcase thrown by Noise Love which was being headlined by Fruit & Flowers.
The band whipped through a 10 song set that was strong from start to finish & showcased their hybrid post punk, psychedelic & surf rock sound that has made them one of the most popular bands in the NYC indie scene.
Some of the highlights included great sounding versions of my favorite tracks including Drug Tax, Out Of Touch, Subway Surfer & Turquoise. I have to say I especially enjoyed the slowed down tempo to the intro of Subway Surfer which really hit home for me. I'd love to maybe one day hear the whole song done in that tempo as it would sound amazing. Maybe I might get a few friends together & dust off my guitars & mess around with it myself for fun as I do miss doing that from time to time. Anyhow let me not digress…..
Overall it was a great set with only one complaint which was of no fault to the band. The vocal mix in Terra Firma was beyond terrible. Unfortunately as you will see in the videos, the vocals were drowned out throughout the set & one can only turn down the instruments so much. It is a shame as Fruit & Flowers set deserved a strong mix as it was that good!
Setlist:
Dark Surf
Bloodline
Down Down Down
Way Out
Turquoise
Out Of Touch
Inside Decides
Lie Awake
Subway Surfer
Drug Tax