Girlpool 06-09-17 (Live @ Warsaw)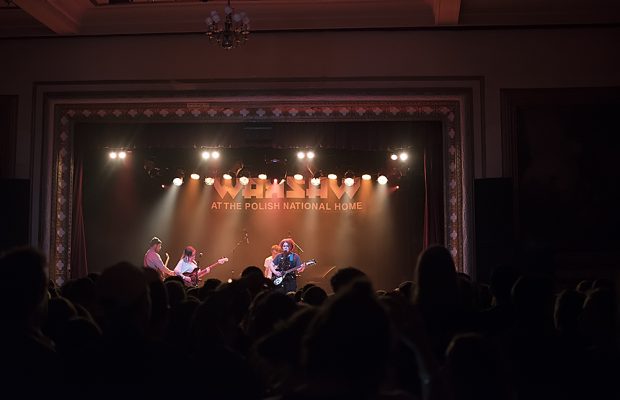 The second day of the 2017 Northside Festival was the day I dreaded most leading up the event. The reason for this is because I had 8 different shows I wanted to attend that were all happening withing about 90 minutes of each other. I was forced to make a tough call & I ended up going to Warsaw to see Girlpool.
I will be honest & say when I first saw they were playing the festival, I was extremely excited. However I started to wonder about going after seeing a Youtube video of a live performance with their new drummer. To say I was not impressed would be holding back, as to be blunt, I found some of it cringe worthy especially after hearing my favorite song I Like That You Can See It butchered.
I decided to chance it anyhow & head on over to what was a severely packed room. They wasted no time opening up the set by featuring the full band sound with 123 & followed up by Sleepless, the first two tracks from their recently released album Powerplant.
For the third song, they went back to their debut full length by playing the title track & fan favorite Before The World Was Big. While the performance of the song was good, I found the verses to sound rushed because of the additional lineup. I found it sounds better when done as a duo like it was originally.
Eventually they played my personal favorite song I Like That You Can See It. I was worried it would be butchered again like in the video I saw but much to my relief, they played the song as a duo which is the way it should always be done because of how raw & powerful it is.
The rest of the band came back to the stage as we got a solid performance of the current single & title track Powerplant. A few songs later we got another fan favorite in Ideal World which left the crowd very satisfied.
They announced that this was the last song & thanked everyone for coming. When I realized that the song being played was Static Somewhere, I just knew it was just a ploy as no way they would not play 2 of their most popular songs.
I was 100% right as after about 2 minutes, the full band came back out & played what might have been the best version of Chinatown I have heard to date. The second guitar & drums helped add a nice twang to it that gave it not only a fuller sound but an almost country vibe that just worked. Cleo's guitar solo to end the song was definitely the best one I have ever seen her perform.
Of course the true last song of the set was the massive crowd favorite Cherry Picking which I heard a bunch of people screaming for throughout the night. The only person I feel bad for was the one who loudly kept begging for Slutmouth but never got her wish. However I am sure she was satisfied overall.
Overall I enjoyed the set even though I won't claim it to be my favorite one from the times I have seen them. While many enjoy the addition of musicians to their sound, I will always feel Cleo & Harmony are at their best when they perform as a duo. The best songs of the set outside of Chinatown proved me right on this night.