Girlpool 07-29-15 (Live @ Baby's All Right)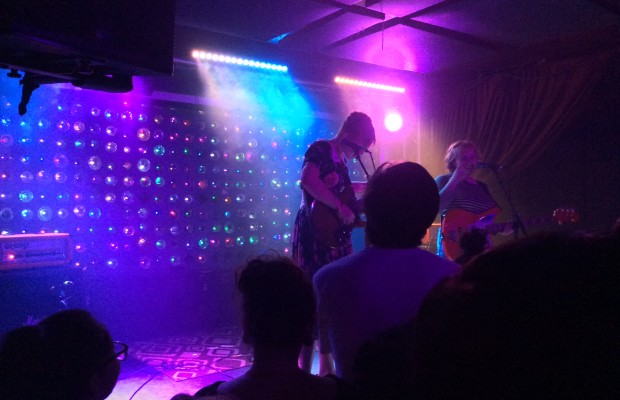 I had been sad for a couple of weeks as I unfortunately missed Girlpool's show at Music Hall of Williamsburg earlier this month. Looking at their schedule, it looked like I would be lucky to see them again before the year was over. However much to my surprise, they announced a show at Baby's All Right so I instantly got a ticket to make sure I did not get sold out on again!
Knowing how small the room is, I made sure to get there when doors opened so I could secure a prime spot to record the show from. I had heard of the opener Florist but never got around to hearing any of their music prior. I must say I was left highly impressed as they definitely made a fan out of me.
What really stood out for me is how they had the crowd at their mercy with every ambient song after another that gelled perfectly on this beautiful summer night. I definitely will be looking forward to hearing more of them in the near future.
Now I can officially say my excitement level picked up immensely as Girlpool hit the stage & launched into what I already knew would be a breathtaking & amazing set all wrapped up in one.
The duo had the sold out crowd in the palm of their hands from the opening harmonious jump with a rousing performance of Ideal World. They followed it up with a perfect version of Chinatown which just grabs at you every time.
Next up we had a brand new song with no official title as of press time. It should come as no surprise that it was another strong harmonious number that paints a poignant picture that resonates with you long after it is done.
My favorite moment of a Girlpool show is when they play I Like That You Can See It & this was no different on this night. The song hits me like no other as I find it to be a truly perfect song. Even the timing of Cleo's guitar slip up towards the end seemed to play like it was meant to be there. Seriously this song can do no wrong!
Emily is a song whose beauty truly comes to light when done live. This was highly apparent on this night as the perfect blend of Cleo & Harmony's voices really show why these two just have it.
We were treated to yet another new song with no official title as of press time. Cleo's opening riffs definitely echoed a darker tone from their other material. The lyrics definitely matched that intensity especially the opening to the second verse which started with "Come over to my place, I'll help find your fix/ You've got lots of potential, can you feel it / Your dad saw you crying when you looked at the world / Sitting stare at your hands cause there's so much to lose….
By this time all of us in the packed room were happily in Cleo & Harmony's world and wanted to stay there forever. However reality came down hard when they said it was their last song which ended up being Pretty whose harmonies further echo why these two are clearly musical soulmates. I am very surprised I am not obsessed with this song as everything about it fits right in my wheelhouse.
After they were done, chants of encore started immediately & kept up nonstop until Cleo & Harmony came back out much to the joy of the sold out crowd. Before getting into a strong version of Plants & Worms, they sang Happy Birthday with a out of nowhere beat box change of tune from Cleo which was so cute & random. I am glad to know Harmony is good at readings, I might need to secure one next time!
We were even treated to a second encore song which was an emotionally gripping version of Dear Nora. Unfortunately for us, this would be the end of what was an amazing set.
However I take that back as I can't use the word unfortunately as that is the last thing any of us in the crowd were. We were all lucky to have been at Baby's All Right on this night to see Cleo & Harmony show us why as musical soulmates, they emotionally resonate with you in ways that most artists could only dream about. Thankfully for the world this is the only the beginning for these two….
Setlist:
Ideal World
Chinatown
new song #1 (no official title as of yet)
Before The World Was Big
Cherry Picking
I Like That You Can See It
Crowded Stranger
Emily
new song #2 (no official title as of yet)
Pretty
Plants And Worms
Dear Nora
Make sure to check out SurgeFM's Youtube channel which has the entire concert available for your viewing pleasure. Click here to watch now!