Girlpool 10-22-14 (Live @ Pianos)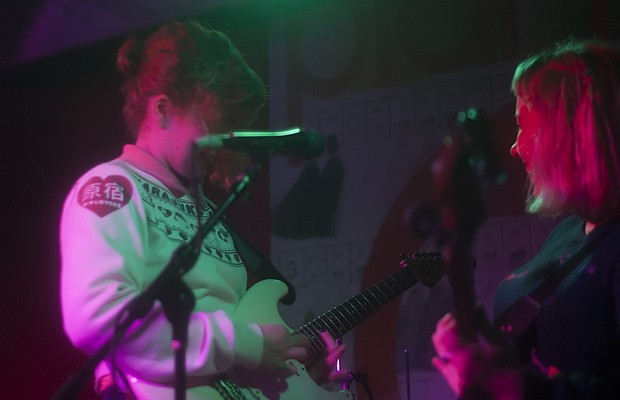 One thing is as sure as death & taxes when it comes to music festivals & myself, I will discover a new artist that I will fall madly in love with & become a life long fan. CMJ 2014 did not disappoint on that front as that artist for me is the Los Angeles based duo Girlpool.
I discovered them a day before the festival started when I checked out their cover of Slutever's White Flag from the split EP they did with the band. So they were on my must see list which is why I ventured out to Pianos on day #2 to catch them play the Kanine Records, Collide Magazine, Slumberland, Insound, SESAC , The Berrics Showcase.
I admit I did not know any of their material outside of the 2 songs I had heard. However I knew from the opening song Blah Blah Blah, that I would love a lot of their songs. The deep bass opening leading into the guitar & alternating verse lines did it for me.
From the opening notes of Ideal World, I already knew this would be one of my favorite songs from them & I turned out to be 100% correct. I am a sucker for vocalists alternating lines through a verse which is a much appreciate staple of their songs.
Anyone who knows me can attest that when I find a song I truly love, I have no problems with listening to it nonstop 24×7 for days if not weeks at a time. I found that song for me in I Like That You Can See It. Cleo's guitar & vocals in this song just takes me places as it perfectly meshes with Harmony's bass & vocals magically. When I got back to where I was crashing for the festival, I literally had this playing every waking second & that has not changed since I got back home. It is up there for song of the year for me without question!
While Love Spell clocks in at under 40 seconds, the lyrics are powerful & straight to the point! It ls a perfect lead into Jane which has a strong punch to it that matches the lyrics perfectly.
Another personal favorite was the song Chinatown which like many of their songs has a beautiful melodic feel that gels perfectly with its vocal harmonies.
The set eventually comes to an end with Cherry Picking which features Harmony's bass playing that helps carry the song.
I am super stoked that I discovered Girlpool as they are already one of my favorite bands. The fact it is just a duo featuring just guitar & bass makes it even better as it really brings out the pure rawness & beauty of their lyrics & music. Keep an eye out for them as they will definitely be going places!
Setlist:
Blah Blah Blah
Plants And Worms
Ideal World
Alone At The Show
I Like That You Can See It
Love Spell
Jane
Chinatown
Paint Me Colors
Cherry Picking