Gossling 10-19-13 (Live @ Arlene's Grocery)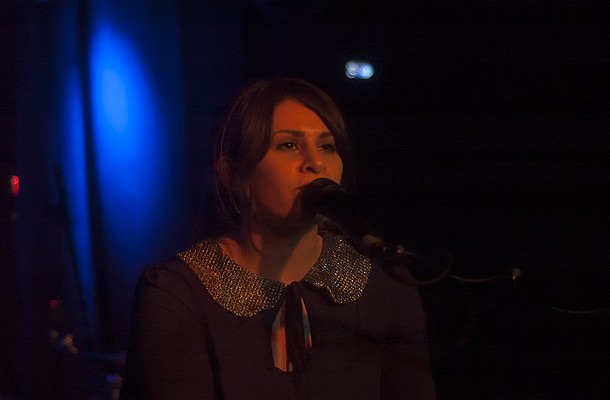 If you checked out our CMJ 2013 show recommendations, Gossling is a name you would have seen often. So it should come as no surprise that I popped back up at Arlene's Grocery to catch her last set of CMJ 2013 at the No Pulp showcase.
Having her as my first experience of the marathon, I knew to expect a great set & that is exactly what I & the rest of the packed house received. She opened up with a beautiful version of Big Love that really got the crowd into it from the opening seconds. She followed this up with a nice version of Harvest Of Gold which is the title track of her upcoming album.
My favorite song of the set was Love Fall Foul which is so beautiful that I could not help but tear up. I find it impossible for anyone with a heart to not get caught up with emotion while listening to the lyrics of the song that Helen sings so painfully perfect. This is definitely a song that many of us can unfortunately relate to via our own experience or through someone we know.
Next up was what was a shocking cover of Everclear's Santa Monica. This was definitely not a song I'd ever expect to hear covered by Gossling. The performance of it featured strong guitar work. However I could not get passed the fact that as amazing as Helen is, I don't feel this song fits her style. I don't feel this is a song that should ever be played at a slow pace much less the one it was played on this night.
Rose was a nice pick me up as the bubbly feel of the lyrics with the strong drum filled verses really helped it shine. Heart Killer sounded amazing as the rich drum & bass work mesh so perfectly with her haunting vocals especially during the verses.
Hazard was hauntingly beautiful especially the verses which had a nice dark chamber like sound to them. I loved how Helen would hit those high notes singing "turns around" during the chorus as well.
The set came to an end with an upbeat & fun performance of Wild Love which had the crowd bopping their head a lot including yours truly. It was a fantastic way to end what was a great set. Hopefully Gossling will be bringing her unique style back to the states in the near future as I can't wait to see her again.
Setlist:
Big Love
Harvest Of Gold
Songs Of Summer
Love Fall Foul
Santa Monica (Everclear cover)
Rose
Heart Killer
Hazard
Wild Love