Kid Karate 10-18-13 (Live @ Pianos)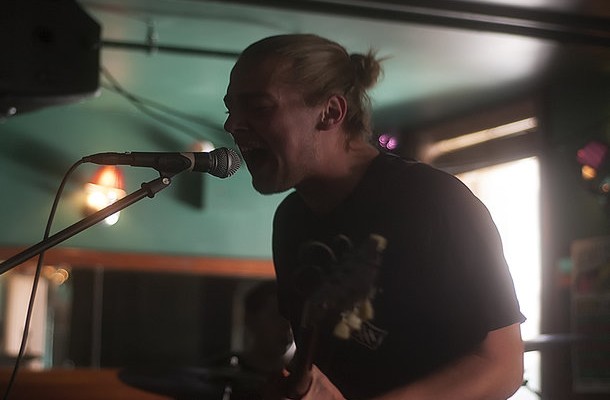 I had some time to kill until my next scheduled show so I decided to take a chance & head over to Pianos. This strategy has always paid off for me during CMJ & this year was no different. I make my way to the Showroom to find that the door was closed & no one was in the room. However I heard some kick ass riffs coming from the upstairs lounge so I made my way up there. It turns out that what I was hearing was their soundcheck.
A short time later as the band was about to begin their set, a ton of people showed up to check it out. The opening number kicked up the in your face rock instantly & got the crowd going. I definitely was digging the style of these guys.
The set only lasted a few songs but every single one really hit the spot & showcased this du0 has some serious rock chops as guitarist & vocalist Kevin Breen tore into everything he did with intensity that was matched by drummer Steven Gannon. My only suggestion would be for Kevin to work on his awkward yet hilarious to watch running in place dance moves.
These guys kicked major ass & I am sorry to have not known about them prior to CMJ as I would have made sure to try & check out them out more. Hopefully these Irish lads make it back to the states soon as I & others in attendance would love some more Kid Karate.