Mainland 11-15-17 (Live @ Mercury Lounge)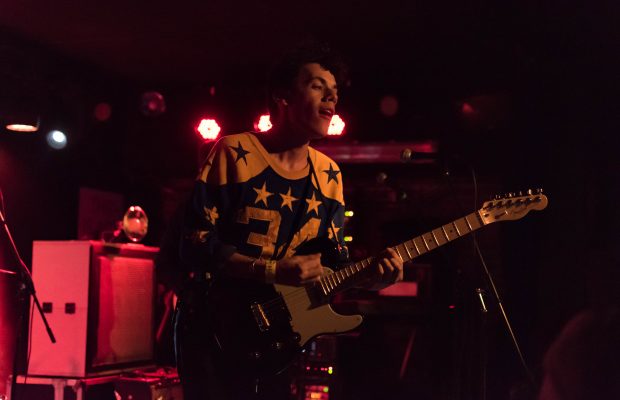 My main purpose of coming into NYC last Wednesday to do press work was to see Mainland. I first discovered the band on accident a few years ago at Pianos when they played CMJ. I had went to see another band who ended up canceling without announcing it so I got to the venue expecting them but instead became super lucky & was wowed by the awesomeness of Mainland.
Fast forward a few years & I come across an Instagram post showing a live clip of their current single I Found God. After hearing it, I just had to see them again & I am glad that I did as they were amazing on this night.
The band led by guitarist & vocalist Jordan Topf powered through a 7 song set that had the sold out crowd in the palm of their hands from the start. They opened up with their 2016 single Beggars which was an excellent choice to wet the appetites of the sold out crowd who clearly was there to see them.
They followed it up with a strong performance of another 2016 single Permission Slip. The energy of their performance was definitely there for this one even more than the studio version which is saying something.
Mainland definitely did not skimp out on playing newer material including the unreleased song Hometown which should make it to their full length debut album due out sometime in early 2018.
The crowd absolutely loved when they played Outcast, the title track of their 2015 EP. I thought they did a fantastic job giving the song a new feeling of life with their performance.
Now it was time to end the set with the song everyone in the crowd was waiting for, their current single/rock anthem I Found God. As I mentioned earlier, hearing this song live & in person is why I came in to cover the show & as I expected, they gave an amazing version of it that had the crowd singing along with the room lit up like fireflies!
I expect huge things from Mainland in 2018 as their current single is the best song they have ever done & it is only the beginning! The sky is the limit for this band so get in before the bandwagon fills up!
Setlist:
Beggars
Permission Slip
Must Be  A Miracle
Hometown
Empty Promises
Outcast
I Found God
As a special treat, I uploaded a second version of I Found God in Black & White!