Ming City Rockers 10-21-14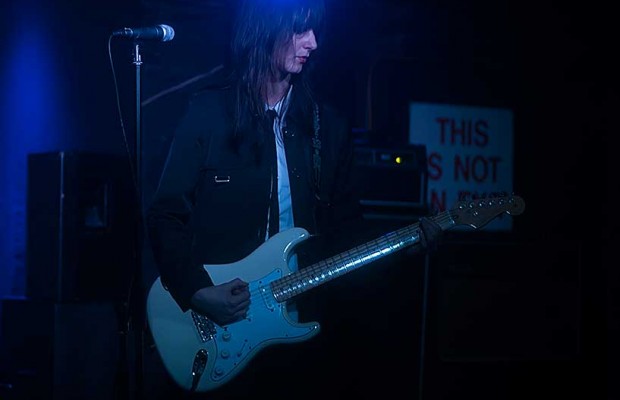 As I noted earlier, my reason for going to Mercury Lounge on the first day of CMJ 2014 was to see Slothrust play. Since I had time until my next show at Piano's to see The Prettiots (more on that in the next entry). I decided to stick around & see the other bands on the bill.
One of those bands was the Ming City Rockers who headlined the night. Unfortunately as is usually the case on a weekday night, the place cleared out big time before they hit the stage.
Eventually they hit the stage in matching attire & started an all out assault of short yet hard nose rock songs. To be honest, I almost left as the vocalist sounded absolutely terrible. However I stuck it out by tuning him out & focusing on the music itself.
I am glad that I did because as the set went on, I realized that the songs were pretty enjoyable. The biggest reason for this in my opinion is lead guitarist Morley Adams who tore it up as her playing got better & stronger as the set went on.
After looking into her, I am not surprised to find out she writes the songs as she definitely is the strength of the band. Because of her, I will check them out some more & see them again when they come into town.