Osekre & The Lucky Bastards (Live @ Muchmore's 06-16-13)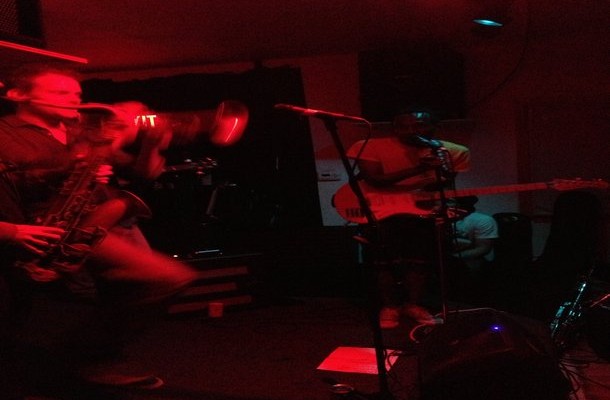 After leaving Spike Hill, I had a bit of time to kill. I knew Carolyn was stopping by Muchmore's so I figure I would head over there & check out the scene since this is one of the few venues I have never been to.
I walk in & immediately notice the laid back vibe of the place. Eventually I found the performance area which was hidden in a separate room towards the back. I walk in & saw what was an extremely small staged that was packed with at least 5 people on stage. Since I came here on a whim, I had no idea who was playing. However I decided to stay & check out the band who I later found out was Osekre and The Lucky Bastards.
If I could only use two words to describe them, it would be unlimited energy. You know how most bands describe their sound as crossing over into multiple genres but in reality you could fit into one? This is clearly not the case with Osekre & The Lucky Bastards as they truly blend all sorts of genres into their own including punk, rap, reggae & rock just to name a few.
Sadly I could not tell you one song that they played but I sure can say that every song they played just made you want to have the time of your life by dancing your troubles away. One could walk in & be in the worst mood ever & by the end of a song, they would be smiling & ready to get down. Their set might have been the most highly energetic one I have ever seen & that is saying a lot!
Thankfully they are based in NYC & will be playing throughout the summer. If you are into upbeat music played by talented musicians with a guarantee of a great time, check these guys out as they won't disappoint. Just be forewarned, prepare to sweat it out with the rest of us!