Professional Victims 01-02-16 (Live @ Hank's Saloon)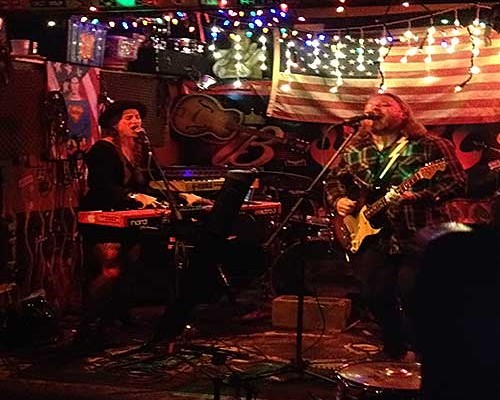 I can say with 100% confidence that I had the best start to 2016 over every other person in the world when on New Year's Day, I got a message from one of my dearest musician friends that they were playing in NYC on January 2nd.
I had not had the chance to see them in a couple of years so I knew nothing would stop me from making my way to Hank's Saloon in Brooklyn to catch Professional Victims.
The super talented duo of Ashley Cox & Shawn Sullivan opened their set with Human, the opening track from their latest release the 2015 EP Fathom The Cosmos. I fell in love with this song from the start as the mix of Ashley's amazing vocals & synthesizer work meshed perfectly with Shawn's guitar work.
Another song that did it for me on this night as the performance of All Time Heavyweight, one of the strongest tracks from their 2012 album Motivational Speakers. The gritty sounding guitar work meshed with Shawn's vocals really help hone in on the powerful lyrical message. The solo was just icing on the cake.
If I know one thing about Ashley it is that besides the stage being a place of total euphoria for her, once she gets her dancing on, you know it just got real! This was definitely the case for The Wheel which she really got into much to the delight of everyone in the crowd.
Unfortunately as they say, all good things (in this case amazing) must come to an end & that it did with a fantastic performance of One Nation Under Fraud which showcased the magical chemistry these two have musically. I have always loved how perfectly their voices harmonize together as they complete each other so well.
Professional Victims are a must hear & see band as they truly deserve to be heard all over the world as such talent is rare to find. So hop aboard their magical ride & thank me later as I know you will!
Setlist:
Human
Spider In The Birdhouse
All Time Heavyweight
The Wheel
Run
Strangest Thing
One Nation Under Fraud
As a special treat, watch the entire Professional Victims set from Hank's Saloon by checking out our sister site SurgeFM's Youtube channel by clicking here.