Shadow Monster 05-01-18 (Live @ Freddy's Bar and Backroom)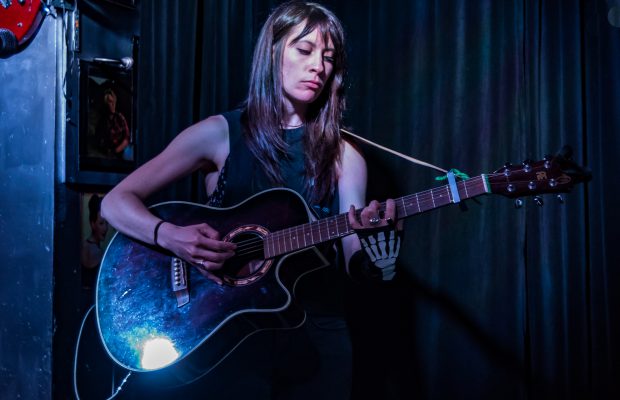 The most recent show I attended saw me making my first ever appearance at the Park Slope bar known as Freddy's Bar and Backroom to see a solo performance by Gillian Visco aka Shadow Monster. This was my first time seeing her perform solo so I was excited to hear how the songs would sound solo.
Much to my pleasant surprise, the 8 song set included 7 songs I never heard before with 5 of them being brand new. I definitely enjoyed hearing brand new material as I can never get enough!
The set started off with Politics Death Dreams Him, a very raw & powerful song lyrically which was evident by the strong desire & passion which echoed from Gilian's voice.
Don't Call Me A Loser was a beautiful yet somber number which showcased the talented gift Gillian has with words to convey a message that can touch you on various levels.
The set ended with my favorite Punching Bag. I was definitely curious to hear how this song would sound without John's amazing drum work which really sets it off. I must say hearing it in its rawest form made the song sound even more powerful lyrically as the message resonates loud & clear. I loved it!
Setlist:
Politics Death Dreams Him
Burying Ur Lover
Poison
Fruit
Flotation Device
Don't Call Me A Loser
Creep In The Corner
Punching Bag