Shadow Monster 06-08-18 (Live @ Little Skips)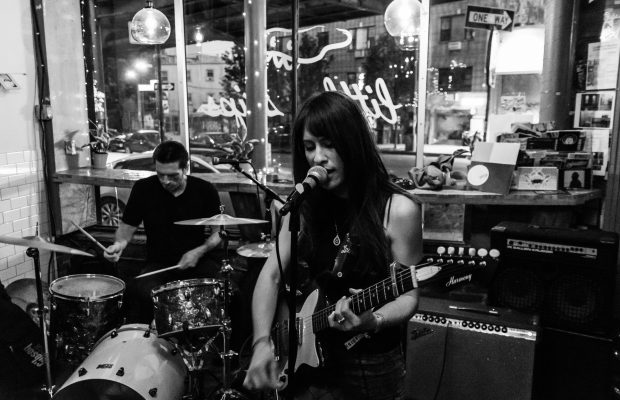 When the 2018 Northside Festival schedule was released, I knew that my entire plan for day 2 of the music portion was centered around what time my favorite NYC band Shadow Monster was scheduled to perform. Regular readers already know that nothing was going to make me miss seeing the awesome duo of Gillian Visco & John Swanson put on yet another amazing set for night 1 of the GP Stripes+NYCDIY.XYZ Northside Showcase at Little Skips.
So it should come as no surprise that they did just that albeit an abbreviated one since the sets were kept short with so many awesome bands on the bill. They opened up with a rousing edition of Kill Me Sweetie which pleased everyone in the crowd who were glued from the start.
We had arguably the best performance of Temporary Love to date with pulsating drum work by John who killed it as only he can. They ended the 5 song set with my favorite Punching Bag which I'd travel the world to hear & see performed! The extended outro to it was an awesome yet unexpected touch.
Jump aboard the Shadow Monster train as this duo will blow up & deserve to do so as they are in my opinion the best band in NYC right now & I hear & see plenty of them!
Setlist:
Kill Me Sweetie
Gimme Some
This Dead Thing
Temporary Love
Punching Bag