Sleepy Kitty 10-16-13 (Live @ Rockwood Music Hall)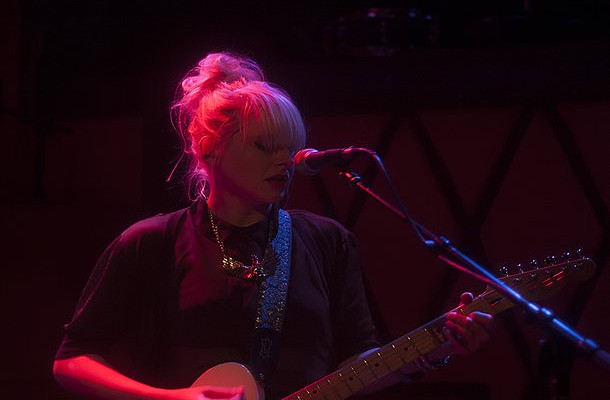 When I was doing my research leading up to CMJ, I found a band that I instantly fell in love with after only one song & that band was called Sleepy Kitty. I heard their song Speaking Politely & loved it so much that I proceeded to listen to it over 500 times the weekend before CMJ. So with knowing that, you know absolutely nothing would keep me from seeing their one & only CMJ show at Rockwood Music Hall scheduled for 12:45 AM.
I make my way to Rockwood for The Deli Magazine Showcase around 12:30. I immediately picked up that they were behind schedule as the previous act was setting up. Not knowing who it was, I decided to check it out & I am glad that I did as I was highly impressed with Emmy Wildwood. Her set showcased a nice set of cool effects matched with catchy pop sensibility without sounding like the mass marketed crap we here on mainstream radio. Her vocal talent was evident from the outset & I look forward to seeing her again soon.
Setlist:
Chick Ckick Boom (Tired Of Love)
Heart Attack
You're Next
No Ballad
Luxurious Problems
Now it was time for the set I was super excited about, Sleepy Kitty! I kept joking with Carolyn in advance that she might see me on the news Wednesday morning as I planned on a 1 man riot if I did not hear Speaking Politely. Thankfully I found out right before the set that it would be played so I saved the time of my lawyer which I'm sure he'd appreciate!
From the opening second, my eyes & ears were glued to what I knew would be an amazing set. The start could not have been any better as I instantly recognized that it was Speaking Politely! Paige & Evan nailed it perfectly not that I ever had a doubt they would. If they ended their set after one song, I would have been completely satisfied with the show but of course it did not end there.
They followed this up with a kick ass version of Seventeen. I just love the in your face vibe of the guitars & drums with the reverb of Paige's vocals as they form a perfect union. Next up was Mockingbird which has a great amazing crunchy guitar intro from Paige that announces the song is here to kick ass & ask questions later which is exactly what it did. The solo kicked all sorts of ass as well!
Hold Your Ground really caught my attention as besides serving as a change of pace track, it showed off the melodic tones that Paige is capable of. Her vocals over the melodic yet dirty guitars were magical. I assume this will be on their next album due out in a few months & I am sure it will be just the latest anthem from the duo.
Sadly it was time for the set to come to an end with Don't You Start, yet another catchy number that you can't help but sing to yourself repeatedly. It was a great way to end what was hands down one of the best sets at CMJ 2013.
I must say that I am completely jealous that NYC can't claim Paige & Evan as their own as besides being really nice & genuine people, their music is beyond amazing. I am officially on Team Sleepy Kitty & I don't plan on ever getting off. Whenever they are playing, I will do whatever it takes to see them & you should do the same. Don't be one of those wishing you could have been there when the next amazing Sleepy Kitty moment happens!
Setlist:
Speaking Politely
Seventeen
Mockingbird
All I Do
Hold Your Ground
Don't You Start