Slothrust 04-03-15 (Live @ Knitting Factory)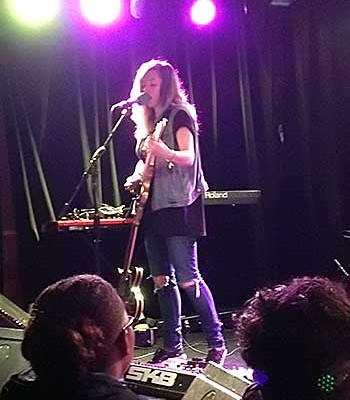 This past Friday I headed out to one of my favorite venues the Knitting Factory for the She Shreds Magazine w/Don Giovanni Records showcase to catch the always amazing Slothrust.
The band came on stage to a nicely packed room & opened with the powering Intro before going into staples Cubicle & 7:30 AM.
We also got treated to 2 new songs in Like A Child Hiding Behind Your Tombstone & One Million Bags Of Dicks. The latter is sure to be one of my favorites off the new album if it makes it on it.
I am always happy to hear Magnets Pt 2 played live. The song definitely had a fresh pop to it during this set. The same could be said for my favorite Crockpot which Will was an absolute beast during the ending. If I could only choose one song to see them do live, it will always be this one!
I have yet to see a bad set from Leah, Kyle & Will. However this might have been the best one to date as all 3 sounded like they were recharged with a brand new level of energy & focus which the crowd ate up.