Slothrust 10-21-14 (Live @ Mercury Lounge)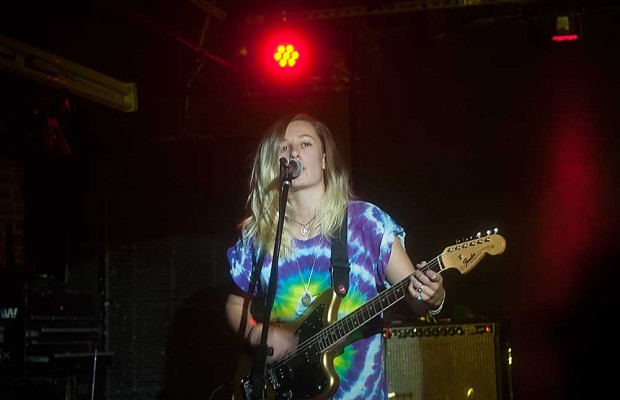 My first night show for CMJ 2014 had me going to see Slothrust for a second time as they played the Mercury Lounge for the venue's official showcase. This time I arrived on time to a nicely packed room.
The band opened up with the always fun Intro which lead into great versions of Cubicle and 7:30 AM. Unlike earlier in the day at Baby's in which they followed those 3 songs with newer material, they decided to whip out an oldie but goodie in the always enjoyable For Marshall. If for some tragic reason the band has to end, maybe Leah can focus on a promising rap career!
We got a new tune in Pseudo Culture which sounds very promising & that was followed up by familiar stalwarts Homewreck Wifey & Magnets Pt 2. This lead up to 2 new songs in Like A Child and Milking A Snake. Like with the aforementioned tune earlier in the set, these two definitely show promise & that grit & edge from their classic material.
Now it was time to hear Crockpot which always makes me happy no matter how many times I get blown away by the song especially its powerful ending. Beowulf kicked all sorts of ass like always which ended another amazing set. Seriously, you all have to find a way to see them live, it is so worth it!
Setlist:
Intro
Cubicle
7:30 AM
For Marshall
Pseudo Culture
Homewreck Wifey
Magnets Pt. 2
Like A Child
Milking A Snake
Crockpot
Beowulf