The Bottom Dollars 10-19-13 (Live @ Arlene's Grocery)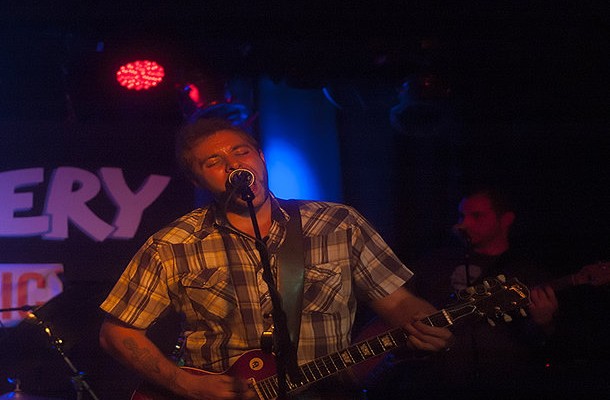 On the last day of CMJ I was looking for some bands to check out and came across The Bottom Dollars. They caught my attention as I liked enough of what I heard to make their set for the No Pulp Showcase at Arlene's Grocery my first stop of the day.
I was won over from the very first song of the set, Devils Night which had an awesome mixture of rock & soul that got the crowd moving & dancing. Prize Fighter featured super catchy verses that were built around fantastic guitar & drum work that you could not help but bob your head along with.
Six Twenty Six was one of the newer songs featured (although technically everything was new to me!). The band clearly enjoyed playing this one & the crowd responded quite enthusiastically to their energy.
One of my favorite moments of the set was the finale which was a cover of the legendary Jackie Wilson hit (Your Love Keeps Lifting Me) Higher & Higher. Their performance of it was absolutely awesome & breath taking as the energy was through the roof from not only the band but the audience as well.
I can't stress enough how happy I am to have discovered The Bottom Dollars as I was blown away by not only their songs which were raw & full of so much feeling but how much fun they displayed playing together. I must also compliment them on being very nice to speak with as well. They are definitely a band I plan on seeing as much as I can & you should do the same!
Setlist:
Devils Night
Prize Fighter
Pieces
Six Twenty Six
Whoa
(Your Love Keeps Lifting Me) Higher & Higher