The Dig 07-12-13 (Live @ Knitting Factory 07-12-13)
I admit that I had been looking forward to July 12th for awhile now as I would get the chance to see one of my new favorite local bands, Pow Wow! who I discovered at the Northside Festival. Unfortunately leading up the show, fans would find out that this would be the farewell show for their guitarist Amanda who I absolutely raved about last month. With all of this, I just knew that nothing would stop me from making it out.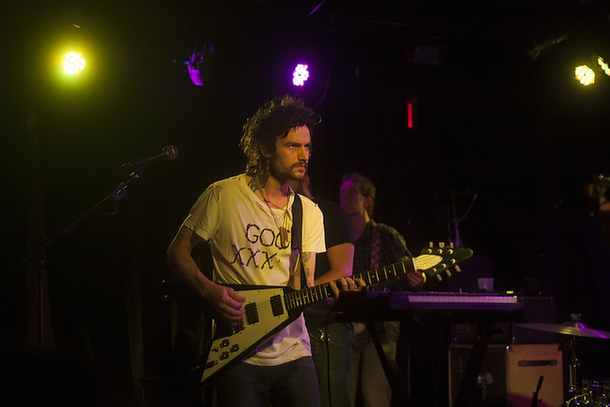 Youngman Grand
I arrived just as the second band of the evening was on stage. Youngman Grand was quite impressive considering I had no idea what to expect from them. They had this atmospheric sound about them mixed in with pulsating drums & heavy guitars. They are a band I will definitely look into more that is for sure.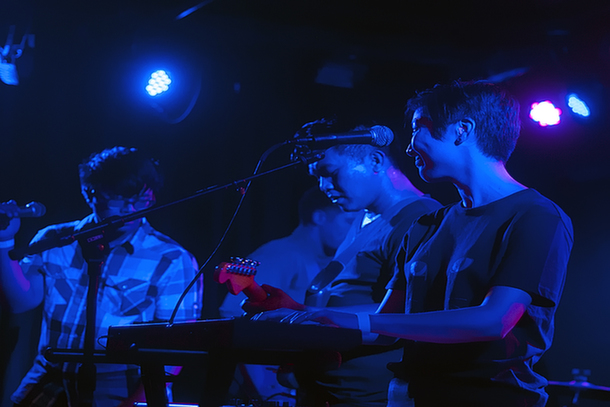 Pow Wow!
Next up was Pow Wow! & words are not good enough to describe how amazing their 12 song set was. 7 of the songs played are from their debut album Don't Stop To Look which you should have already picked up by now on their Bandcamp!
They opened up with 23 19, a highly spirited number that got the crowd going. The title track of the album was next & this definitely was a nice performance of the song. The new wave type work in the background really helped give a fun element to it.
Confessed Sinners was one of my favorite songs of the set. The upbeat sound was so addictive especially during the chorus where they repeatedly sang Ba ba ba ba.
As you know from my Northside Festival review of their show, my favorite song of theirs is Shoot. I could not wait to hear it live again as it sounded amazing the first time. On this night it was no different as the band was amazing, especially the background vocals of Amanda who mesh so well with Eddie's. The extended jam at the end was a great touch especially by Sal who pounded the drums like his life depended on it.
Sadly it was time for their set to end & they did so with a newer song called I Am Chai. The best part of the song is the chorus which is highly addictive like so many of their other songs. Once again they blew me away with their set & that is saying something as I had high expectations going in. It is sad to see Amanda leave but I am confident they will still be great when I see them next.
Setlist:
23 19
Don't Stop To Look
Take It Easy
Found
Ghosts
Gliding
Confessed Sinners
The Devil Came To Me
Shake
Not That Easy
Shoot
I Am Chai
Next up was the final act of the evening, The Dig. This show was extra special for them as not only was it the official release party for their new EP Tired Hearts, it was also the first time they played at home for quite some time. As with Youngman Grand, I was not sure what to expect out of them. When it came to the band, I only got a chance to sample 2 or 3 songs. However from what little I heard, I knew it had potential to be good. I just did not know how much so!
As with Pow Wow!, The Dig absolutely killed it during their 12 song set & words are not good enough to describe how amazing their set was as it blew me away. This was the same sentiment shared by fellow IndieMusicReview.com writer Carolyn who attended the show with me.
The set contained mainly material from the new EP mixed in with cuts from their previous album Midnight Flowers. They opened up with the second track from the new EP, How Can You Trust A Feeling. This was a nice paced opener with a basic beat that went well with the keys of Erick Eiser.
My attention was officially caught from tracks 2 – 6 as this was for me the highlight of the set. The run started off with the opening track from Midnight Flowers, Red Rose In The Cold Winter Ground. The repetitive guitar meshed so beautifully with the atmospheric beat around it. I thought this would definitely be the best song of the set.
Yet next up was Black Water which I know made at least one person really happy. I say this as I recall seeing someone on Twitter request that this song be played. The song began with strong drum work & a nice twangy yet crunchy guitar that reminded me of playing on my Telecaster. Then the song takes on a new element as a more spacey sound surrounds the guitar which really added great depth to the song.
If I was forced to pick only one song as my favorite of the night, it was the 4th track of the evening which was I Already Forgot Everything You Said. Simply crafted songs that are pure beauty always tug at me. This is a song that definitely qualifies as it is built around a repetitive guitar, a simple drum pattern & a deep yet soothing bass. The vocals on this song just put it over the top as they were perfect on this night. If they just ended the show after this song alone, I would have been perfectly satisfied. Anyone who knows me well knows that this song is officially one I will have on repeat 24×7 for at least a week!
Some other highlights of the set included the first single off the Tired Hearts EP, Angeline which really hit the spot nicely. The same can be said for All Tied Up which has this haunting yet soothing vocals that blend in a thick rich bass. The fans definitely were loving it on this night.
After the band finished the song, they said good night to a thunderous ovation along with many chanting for an encore including a few requesting to play everything else in their catalog that they have yet to play. The band obliged with the typical leave & come back move that has never once fooled me since I started going to shows as a teen! They came out for 2 more songs which were Falling Slowly & Sick Sad Morning.
Like I said, The Dig blew me away on this night & the same could be said for the packed house in the Knitting Factory. What I really loved seeing was how dedicated many in the audience were as I caught a great number of people singling along to every song, a sign of truly dedicated fans. Also a shout out to the guy who was in front of me who really showed his enthusiasm for every band that played. This guy was dancing nearly non-stop the entire night & even whipped out some air guitar. I absolutely loved the emotion he showed, it is sorely missed these days!
If you get a chance to see either Youngman Grand, Pow Wow! or The Dig, you must as they will definitely bring the goods & have you yearning for more. I know I felt this way & I can't wait to have my cravings satisfied in the very near future.
Setlist:
How Can You Trust A Feeling
Red Rose In The Cold Winter Ground
Black Water
I Already Forgot Everything You Said
Break The Silence
Permanent Night
Over You Again
Angeline
Hole In My Heart
All Tied Up
Falling Slowly
Sick Sad Morning