The New Tarot 02-22-18 (Live @ (Le) Poisson Rouge)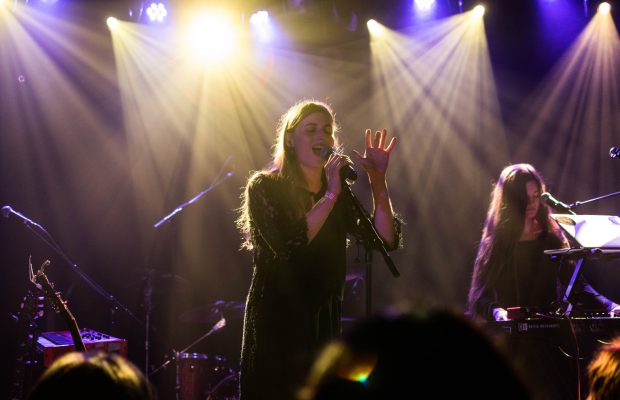 I recently was invited to come out and see a sister duo called The New Tarot open up for former American Idol winner David Cook at (Le) Poisson Rouge. This would be my first time seeing them so I did not know what to expect.
However I must say that the hype behind Monika Walker (vocals and acoustic guitar) and Karen Walker (vocals and piano) is 100% justified as they not only wowed myself but everyone in the crowd with their completely relatable music & lyrics that could speak to us all.
The set featured many highlights including a very good cover of the Chris Isaak hit Wicked Game along with a beautiful rendition of the Fleetwood Mac classic Landslide which happens to be one of my favorite songs of all time.
What really caught my attention is how alluring & sultry Monika's vocals especially on Wait which I instantly fell in love with & can guarantee will be my favorite song of theirs. Monika's vocals on the chorus are mesmerizing as they blend in perfect unison with Karen's keyboard. It truly sounded like pure heaven to my ears!
Let me give some props to Tell Me You Like Me as that song is irresistibly catchy & will have you singing it to yourself all day. I of course must acknowledge the beautiful background vocals & harmonies that Karen provided as they blended perfectly throughout especially on the energetic Mistake To Choose which happens to be their latest single.
Overall, The New Tarot made the night for me as I became a fan & look forward to seeing them a lot more in the near future. Get in on the ground floor as Monica & Karen will shoot up in popularity fast as they have the complete package to do so.