THICK 06-10-17 (Live @ Muchmore's)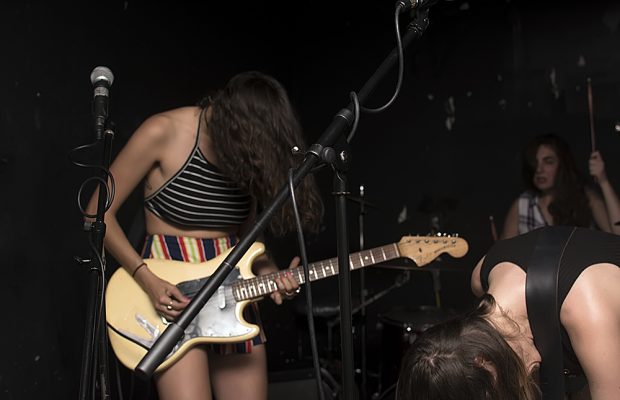 My second stop on Day 3 of Northside had me going to Muchmore's for the Paper Scissors Media Day Party to see THICK. After checking them out their Soundcloud via the festival app, I fell in love with them & told myself absolutely nothing besides dying would have me miss their set.
I arrived a bit early & caught the last few songs from Secret Nudist Friends who sounded really good. I hope to catch them in the near future & I suggest you do the same. After they were done, I secured myself a nice spot for the ass kicking festivities that were about to commence.
THICK's set kicked all sorts of ass with the undeniable raw desire & energy not only present in their songs but in the actual performances from the 3 best friends Nikki, Shari & Kate.
To be honest every song of their set was a highlight for me but if I had to choose one, it will definitely be Anymore which happens to not only be the song that made me fall in love with them but my favorite song of the entire year so far. I can't stop listening to it! My only regret was not getting it on video but I'll fix that mistake at their next show!
In terms of the Northside Festival, THICK definitely wins for my favorite overall set. I definitely will be seeing them as much as I possibly can & highly suggest you do the same!
Setlist:
Girly
Be Myself
Anymore
Bleeding
Life
Puke's Diner
Niagara
Wasting My Time