THICK 08-03-17 (Live @ Union Pool)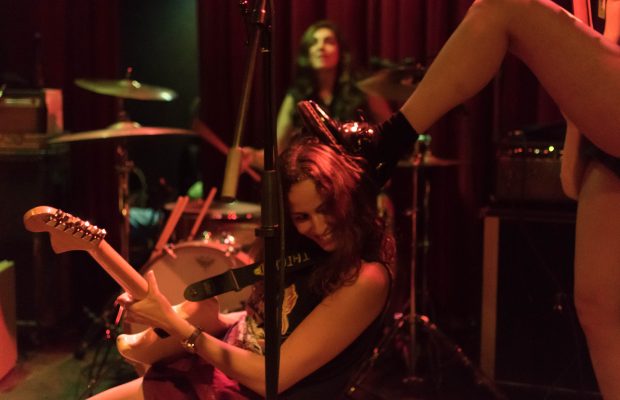 Normally my Thursday nights are booked solid with some personal engagements on Long Island. However for weeks, I knew that August 3rd was going to be a night spent at Union Pool in Brooklyn as I was not going to miss seeing THICK perform.
The room slowly filled up just before the threesome of Nikki, Kate & Shari hit the stage for what was a kick ass set. They opened up with their current single Girlie which hits you straight in the face with its intensity & power. The solo to end the song is my favorite part. Overall a perfect opener.
Where Have You Been really did it for me. I only caught the last 60 seconds of the song on video but I have been listening to it on repeat ever since. I definitely have this song up there as one of my favorite tracks from them.
This lead into Anymore which is not only my favorite track from the band but my overall favorite track of 2017 hands down. I listen to it & watch the video for it multiple times a day. I could see them perform this song every day for the rest of my live & never get sick of it!
Some other highlights included awesome performances of Be Myself, Wasting My Time & Hot Bod. Regardless of what song was played, the crowd was super hyped up, singing along to a number of songs & rocking out nonstop.
The energy in the room was electric throughout & it started with the 3 talented ladies on stage whose smiles & enjoyment throughout the set were impossible to miss. You can clearly tell they love playing together & would not have it any other way. A lot has to be said for such chemistry which makes every THICK show a must see!
Setlist:
Girlie
Puke's Diner
Where Have You Been
Anymore
Life
Bleeding
Wasting My Time
Be Myself
Hot Bod