WBAR-B-Q 04-19-14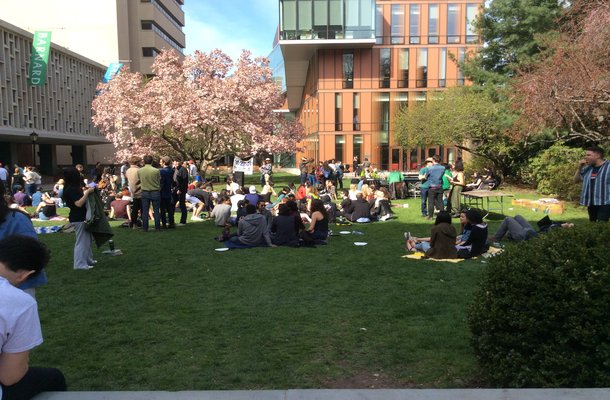 One way or another, I always manage to be busy & not being able to partake in Record Store Day. I decided that 2014 would be different as I had planned on taking it in & enjoying a great day of music.
My first stop had me heading to an event I stumbled across while browsing the web, the 21st annual WBAR-B-Q at Barnard College. While browsing the lineup, I only recognized one artist by name and that was the Darlings.
I decided to go by a gut feeling & pick a band to check out before heading into the city. My choice was AmandaX which I was instantly impressed with. Unfortunately by time I arrived in the city from Long Island, AmandaX had already played. However I was not going to have this stop me from checking out the show.
I arrive around 3:30 to catch the end of DJ Dog Dick. A more fitting name would be DJ Dog Shit as he was just that. I find it completely unprofessional to hear someone on stage admit to forgetting the lyrics to more than 1 song. Perhaps try being prepared next time or better yet actually learn how to rap before performing again!
Next up was Jerry Paper. His set had a few technical snafus but outside of that, the beats he featured were pretty catchy. Normally that kind of set does little to nothing for me, I did find myself enjoying it on this day.
The Darlings were up next. As I mentioned earlier, this was the only artist I recognized on the bill. Although I knew who they were, I never listened to them & it is for the dumbest reason.
A good musician friend of mine used to have a side project called The Darlings some years back. I was sad to see them only make one EP & play a handful of shows before it was shelved. So every time I would see these Darlings listed, I would shy away from checking them out.
However I have to admit that I am absolutely a fan of the Darlings now as I was highly impressed with their set. The songs had a great energy along with being real catchy. Thankfully they are a local band as I will get the chance to see a lot more of them.
LVL Up followed up with a rocking set as a number of their songs really caught my ear. Hopefully they play out a lot as I am definitely interested in seeing them again.
They were followed up by Brooklyn rapper Ka. I did not stay for his whole set as I had to head on to my next show. From what I heard, the beats from his songs were real good. However I was not impressed with him lyrically. Rap does not transform well to me in a live setting when it is just rapping over a track. Perhaps his studio stuff would do more for me. I'm willing to give it a chance someday.
Overall I have no regrets about attending the WBAR-B-Q. I hope to make this an annual event that I attend & you should as well.