Mark Newman – LYCANTHROPY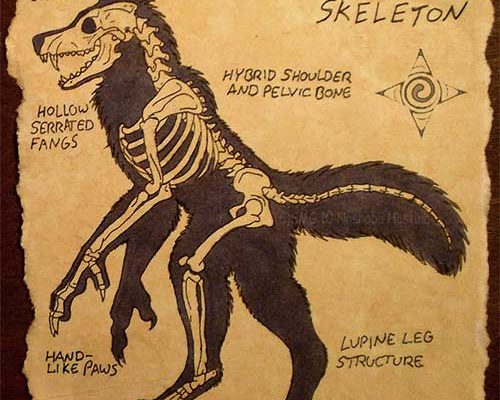 The Age-Old Story of Man-Turned-Werewolf Howls Through Newman's Newest Rootsy Rock Tune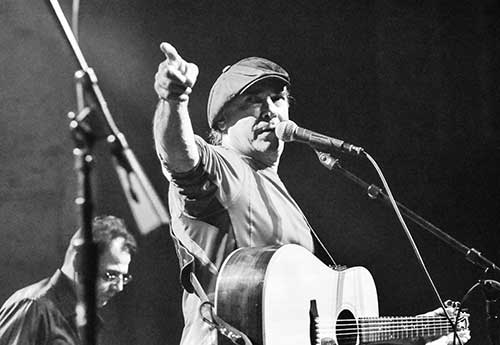 With Halloween upon us, singer/songwriter and guitarist Mark Newman is giving his fans something to howl about with his latest single "LYCANTHROPY" OUT TODAY!
The ancient term "Lycanthropy" is defined as the supernatural transformation of a person into a wolf, as recounted in folk tales. In the lyrics of Newman's newest release a man, believing he turns into a werewolf, pleads his case that lycanthropy is a disease, not a crime!
"Doctor doctor please
Cure the beast in me
You can feel my power
In the midnight hour"
Although Newman has played a ton of exciting solo and full-band showcases–notably NYC's B.B. King's for the Delbert McClinton Birthday Show, The Paramount in Huntington opening for The Doobie Brothers, The Space at Westbury opening for the one and only Don Felder and David Bromberg on separate occasions, The Blue Note in Tokyo, Japan, and NYC's Legendary Bitter End–he has also worked as sideman to so many soul, blues, and rock greats of our time like John Oates (Hall and Oates), Jim McCarty (The Yardbirds), Willy DeVille (Mink DeVille), Sam The Sham, Bobby Whitlock (Derek and the Dominos) and Sam Moore (Sam & Dave)!
A New York native, Newman's musical prowess has taken him around the world several times over, playing with an eclectic mix of noted musical talents from Sting to Elvis Costello, and Travis Tritt as well as his own solo work. A multi stringsman, Mark has mastered electric/acoustic/lap steel guitar as well as the mandolin and dobro, and with a voice reminiscent of many rock and blues men before him- it has the familiarity of an old friend yet the power and soul of many of today's rock, soul, folk and R&B icons.
For over five years, Newman and fellow songwriter Naomi Margolin have run the "Music From the Hive"  Singer/Songwriter Series, and for the past two years- "The Original Music Series" for bands, in an attempt to keep original music alive on Long Island. Newman also records and produces local artists in the Long Island/NYC area.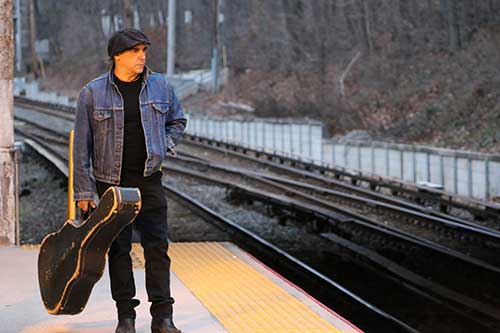 Walls of Jericho, which was released in 2010, is filled with intricate guitar work and mixed with a plethora of sounds from hard rock to a lighter more Dylanesque folk tinge, but this style comes even more to the forefront on 2015's  Brussels out now on Danal Music and available via iTunes and CD Baby.
The live acoustic-driven EP packs a bluesy punch reminiscent of Clapton's Unplugged album through both the guitar work and raw vocal power. On the first track "Mean Season (Lucille, Lucille)", Newman bellows "I waited til' dawn, see if the sun will shine when you're gone // You turn away, I just can't stay where I don't belong" and like many early bluesmen before him, you can hear the soulful longing and strife in his voice. With the brilliant slide-guitar work in Dead Man's Shoes we're easily transported in our minds to the West in the era of outlaws and cowboy boots, and in Must Be A Pony reminded about the power of a child's enthusiasm and the efforts not to lose it as time goes by.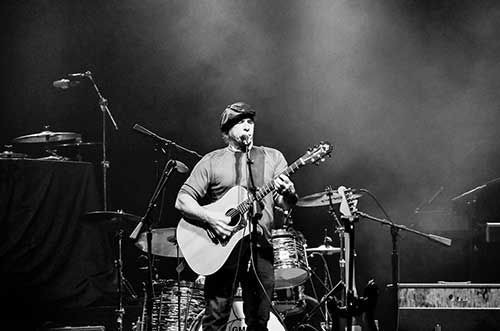 With November 2016's "Scapegoat" bringing Newman's full-scale musicianship into the forefront as not only a brilliant slide-guitarist, but a gifted lyricist as well, the 2017 politically charged release "When I Aim My Gun" takes a lyrical journey that showcases Newman's writing. "Maybe it's a chip on his shoulder, or a feeling of neglect // Maybe it's a need to get even, or a need for some respect // Honing his skills shooting everything in sight, no target too big or small // Now there's a need to make things right in his world, once and for all. He'll answer the call" he sings, invoking the power of some of some of America's greatest story-songwriters, continuing with a powerful refrain "when evil's in sight, turn wrong into right, when I aim my gun // I'll take up the fight, I'll be your white knight, when I aim my gun".
Having recently opened for former Jerry Garcia Band member Melvin Seals at NYC's B.B. King Blues Club & Grill, Newman's stage-presence only seems to keep shining brighter. And with "LYCANTHROPY", it is yet another reminder of his incredible talents as an all-around musician and humorously creative lyricist, but you can check it out for yourself at the links below!
To Purchase Mark Newman's "LYCANTHROPY" via CDBaby.com, VISIT: http://bit.ly/2x8juvB
For More on Mark Newman, VISIT:
Purchase "Brussels" via iTunes HERE:
https://itunes.apple.com/us/album/brussells-ep/id978060700
or
via CD Baby HERE: