Chameleon Project – Funk 'n' Space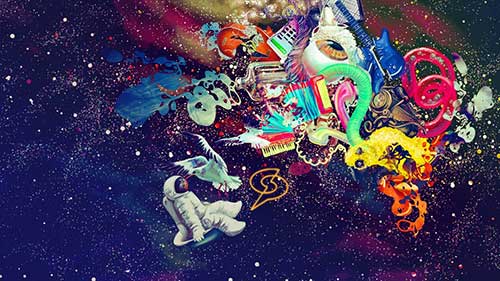 The Chameleon Project's Funk 'n' Space is eight songs of surefooted exploration delving into a number of styles, throwing them into a blender, and coming out with something highly individual and nearly impossible to duplicate. The band's avowed influences come through at certain points but, overall, The Chameleon Project spins through sonic territory where few bands would have either the chops or bravery to make things work out for them.
The songs are probably a bit longer than you might expect and some might accuse the Toronto four piece of having too many ideas for their own good, but even the fact that not a single song on Funk 'n' Space is less than four minutes in length doesn't mean that this tracks are self-satisfied and self-indulgent. This seems like one of the collections where there's never a word or note too many and the band's songwriting was a finished product when they hit the studio besides a few judicious tweaks. Despite that, however, it never sounds overly constructed.
Few songs illustrate that better than the opener Milky Way. It brings funk and jazz together in a way you seldom here – the drumming and keyboard work are straight from the retro minded school of seminal seventies and eighties funk, but the changes and subtleties of the musical arrangement is crammed full of the idiosyncrasies one might associate with jazzy flourishes rather than George Clinton.
Playhouse, the album's second track, is a much straighter disco track without any of the glittery tinsel that normally makes the style sound glossy but without any real substance. Instead, there's subtleties galore in what seems like, on the surface, to be one of Funk 'n' Space's more straightforward songs.
Steppin' is one of the album's most successful numbers thanks to its astonishing stew of sounds that never obscures, but rather enhances, the reggae heart breathing just below the surface. Drummer Ricky Rockalotta deserves special mention here, as he does on the opener, for the impeccable groove he lays down.
Kraken shows off the experimental rock that occasionally comes out of this band. It begins with some appropriate ambient and synthesizer induced sounds before  moving into a track with strong guitars, dramatic turns, and even a light sense of dread that you don't hear on earlier songs.
Reactor merges guitar rock with EDM without one ever weakening the other and comes off, in the end, as one of the album's truly memorable creative high points.
DiMiTri cOde is, arguably, the album's most challenging use of synths and other electronica with an often sternum rattling pulse at the center of it. It's a near perfect prelude for the final moment of Funk 'n' Space, Wako, where The Chameleon Project manage to top everything that came before and unveil an ambitious closer incorporating all of the best elements of their approach into one track. There are few bands reckless or daring enough to today to navigate their way through a trip like this and emerge from the other side artistically stronger than when they began. The Chameleon Project, however, are exactly that sort of band.
If you enjoyed a sneak preview from Funk 'n' Space, check out the official website for Chameleon Project by clicking here. Give them a like on Facebook by clicking here & a follow on Twitter by clicking here.