Sleepy Kitty – Projection Room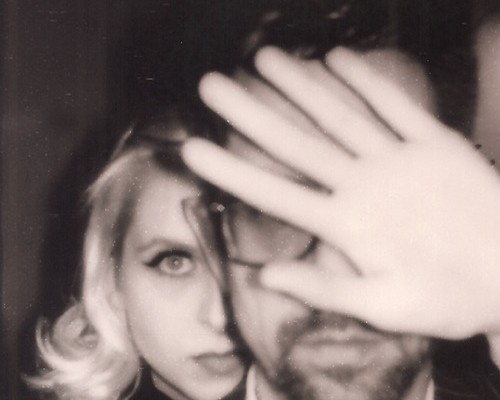 About 3 months ago, I was lucky enough to come across Sleepy Kitty while doing research for artists to check out during CMJ 2013. As I mentioned in my review of their CMJ show, I instantly fell in love with the St. Louis duo consisting of Paige Brubeck and former Harvey Danger drummer Evan Sult after hearing Speaking Politely online.
While hanging out with them for a bit after the show, I found out that the release of their sophomore album was pushed back to January due to promotional concerns. While I was disappointed to hear the news, I knew the wait would be worth it. After listening to Projection Room, my thoughts were 100% spot on!
The album technically opens with a 17 second track appropriately titled Opening Scene. However the real musical opener is Don't You Start which features some great heavy reverb, layered vocals & real strong drumming from Evan. This was a perfect opener as it set the tone nicely for what was to come.
Usually when an artist opens with a real strong number, they tend to follow it up with a similar feel & vibe & continue with the repetitiveness throughout the album (Best Coast being a perfect example, I love them but a lot of their songs sound alike). This is where I give big time credit to Sleepy Kitty for not following that formula with Nothing = You, a short yet robust number with catchy guitars & strong drum work.
If I was forced to only pick 1 favorite as of this moment, it might be the next track on the album What Are You Gonna Do When You Find Bigfoot? The title sounds like it would be a throwaway song & to be honest it probably would be for 99% of artists. However no such thing exists when it comes to this band as they take the quirkiest of titles & turn it into something amazing. The opening piano along with Paige's vocals hooked me. When Evan's drumming kicked in with perfect timing, I was in love.
The great thing about this album is as much as I love the previous track, I find the next one to be just as amazing. This is the case with The Hoax which has a 60's type feel with a 90's angst edginess to it that blends perfectly. The despair in Paige's vocals really set the tone as you are left feeling the mixed bag of anger, sadness & emptiness that resonates from beginning to end. The ending to this song as she powerfully sings "There was just nothing" repeatedly before just ending it with shouting "Nothing" is absolutely powerful & gripping.
The Agony & Ecstasy of Mike Daisey was perfectly placed on the album as it is a perfect change of pace track. The soft yet haunting sound of Paige's vocals with Evan's deep drums form put you in sort of a hypnotic trance that takes you to a whole different place. This would be a great song to listen to while in the middle of nowhere or while sitting in your room in complete darkness.
K-I-T-T-Y is a short yet very telling track. The track itself sounds like it was just the two of them goofing off while in the studio as Evan plays a drum beat reminiscent of what you would hear at a high school pep rally while Paige tries to not die from laughing at him doing it. This just tells me that these two absolutely love making music together & Paige saying "I love it" confirms that. I could not stop laughing picturing the look that must have been on Evan's face as he does his little routine.
Batman: The Ride is yet another example of how this duo can turn a song about waiting in line go from what should sound ridiculous to absolutely awesome. The opening guitar work by Paige really did it for me as I was instantly hooked. Kudos to them for waiting in line for that long as I never would have. Thankfully they did or we would not have this song!
The album ends with the kick ass track Hold Yr Ground which opens with a vintage crunch guitar sound. The solo really hit the spot for me as it did not feel forced like a lot of the ones I tend to hear these days. The best part of the song is how the powerful last chorus leads to a soft outro.
Even though we are only halfway through the first month of 2014, I can already guarantee that Sleepy Kitty's Projection Room will be one of the top 5 albums of 2014 regardless of genre. I believe this with every fiber of my being & I bet many will agree after hearing it. This album shows why they were voted Best Indie Band for three years in a row by St. Louis Riverfront Times readers.
The band will be hitting the road & are a can't miss as their live show is nothing short of amazing. I personally can't wait to see them again in a little under 2 weeks when they come back to NYC. Hopefully I will see a lot of you there!
Tracklist:
Opening Scene
Don't You Start
Nothing = You
What Are You Gonna Do When You Find Bigfoot?
The Hoax
Godard Protagonist Inflection
The Agony & Ecstasy of Mike Daisey
Western Antagonist Reflection
K-I-T-T-Y
All I Do Is Dream Of You
Batman: The Ride
Hold Yr Ground
Pick up Projection Room out now via Euclid Records by clicking any of the links below: