Goodbye Motel Interview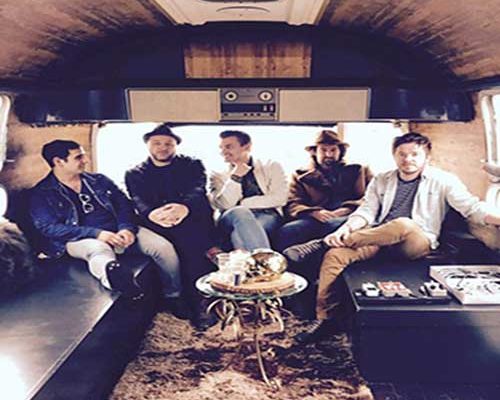 Longtime readers of IndieMusicReview know that one of my favorite artists regardless of genre is Goodbyemotel as I have been following them for years as is evidenced by the many shows & reviews I have written about or the live videos of their performance that can be found on our sister site SurgeFM's Youtube channel.
I recently had the honor of catching up with front man Gustaf Sjodin Enstrom for this exclusive interview so enjoy!
IndieMusicReview: How Long have you been playing in New York City?

Gustaf: We've been coming back and forward to New York since late 2011, and after a few trips finally decided to make the move in mid 2013 and have stayed here since. Loving peoples appreciation of music and the diversity of musical flavours in this great place.
IndieMusicReview: What are some of your favorite venues to play at in the city?
Gustaf: Rockwood Music Hall has been a big supporter of us since the start which we are forever thankful for. They've really allowed us to grow over the last few years and has been a real home for us as a band. We also love playing Mercury Lounge, Bowery Electric and Arlene's Grocery too. The Lively is a new up and coming venue in Meat Packing district which i think has a lot of potential.
IndieMusicReview: What inspired you to become a musician?
Gustaf: It was always in me I think. I always performed for my family before I could play anything, and finally at 6 I was given a guitar on my birthday and I haven't looked back since. Michael Jackson was a big inspiration in my first years on this planet. He was all i wanted to watch and I tried my best to learn his dance moves, however I'm not sure how accurate they were at 3-4 years old.
IndieMusicReview: Who are some of your biggest musical influences?
Gustaf: I love so much music, its always difficult to choose. But I can safely say I love Michael Jackson, Led Zeppelin, Radiohead, Billie Holiday to name a few. Recently I've obsessed over Kendrick Lamar, like a big portion of the world has I'm sure. Hiatus Kaiyote is another group I really think are pushing music forward into some exciting spaces.
IndieMusicReview: What are you currently listening to?
Gustaf: Currently I've been listening a lot to Tigran Hamasyan, who is an unbelievable Armenian pianist, completely with his own flavour.
IndieMusicReview: What was one of the most memorable experiences you have had playing a show?
Gustaf: I think Xerox International Jazz Festival in Rochester, NY was a particularly memorable couple of shows. We put on our 4D Live Music Experience with 3D Projections synced to our new album iF and had a seated audience with 3D Glasses on. That was a fun one to observe as a performer: how the crowd interacted with the light show and the music.
The following day we supported Blood, Sweat and Tears right in the heart of Rochester, which was one of the bigger stages we have played and had a blast playing for the local Rochesterians.
IndieMusicReview: What inspired the 4D experience?
Gustaf: Three out of five members of the band have a background in Video Production, so it was only natural to want to combine the passion of visuals with the passion for music. The addition of 3D Material was something that was developed over time. We've been able to travel with this show to Japan, the US, and Australia, which have been great times for us.
IndieMusicReview: What is next for Goodbyemotel?
Gustaf: We've been staying put at Rockwood Music Hall and focusing on building locally, and it feels like the crowds are getting a little bigger each time, which feels exciting and makes the experience even more fun for us as a band.
IndieMusicReview: When is your next show?
Gustaf: The next show we have booked is in early July, with a date to be announced very soon. Stay tuned to www.goodbyemotel.com and we'll be letting you know shortly.
IndieMusicReview: Any last words for all your fans?
Gustaf: Come out to shows. Live music is exciting and we love playing and sharing our music with people. Rockwood Music Hall is in the Lower East Side in Manhattan and has such a high standard of performers and sound, making it a great experience when you enter the different stages at Rockwood. Find us on Instagram and Facebook and we can stay in touch. Also come say hi at shows, we love making new friends.
Thanks for taking the time to check out my exclusive interview with Gustaf of Goodbyemotel. Make sure to check out their official site by clicking here & don't forget to like them on Facebook by clicking here, follow them on Instagram by clicking here & lastly follow them on Twitter by clicking here.