Aly Tadros 03-25-14 (Live @ Rockwood Music Hall)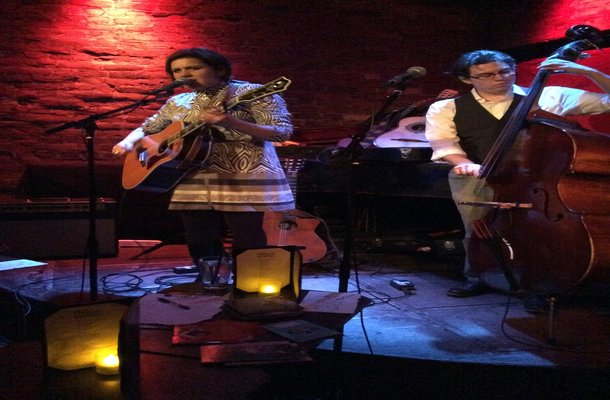 During the latter stages of CMJ 2013, I mentioned how lucky I was to have accidentally discover the amazingly talented Aly Tadros at Rockwood Music Hall. I became an instant fan & could not wait to see her again.
Unfortunately I missed her last show but when I saw she was playing only one show for Spring, I knew I would be in attendance at all cost & I was rewarded with a fantastic set.
The show started off with the fun & irresistibly catchy It All filled with all the fun vibes I remember even with less people on the song.
This was followed by my personal favorite Aly Tadros song Swingset which I really want to hear her sing 24×7 as it is that beautiful & amazing. I am so thankful to have caught her before I entered the venue to request this song. Thanks Aly, I am forever thankful!
Escape is the perfect song for a one night stand soundtrack if one was to ever be made. No matter how many times I hear this song, I can't help but get wrapped up in the dirty rawness mixed in with Aly's irresistible sultry vocals.
The performance of Whim featured beautiful chemistry & harmonies between Aly & Alex. My favorite part was the dueling ending which was done perfectly. I look forward to hearing this duet more in the future.
When I first heard Bad Thing back in October, I had noted how it was a good song but it did not hit the spot for me. However I have changed my tune on it as the performance of it really did it for me. I feel what set this song apart on this night was the excellent drum work from Cody.
I absolutely loved the cover of The Postal Service song Such Great Heights as she put a completely original spin on it. I have to admit her version really showcased the depth of the lyrics in a way the original failed to do so.
Next up is my second personal favorite Alberta. Once again her stunning yet haunting vocals & guitar work reach the core of you during this song. I can't wait to hear how this song sounds on her next album (assuming it makes it on there). To be honest, I am not sure if the raw emotion & power of this song can be done justice in a studio. However if anyone can do it, it is Aly.
The show ended with a rousing performance of But A Memory which was a perfect way to end a great set. Aly's vocal range really was on display here along with the raw emotion that this song delivers.
Once again, I was left amazed at how talented Aly Tadros really is. While her tagline of "not yo momma's folk music" is completely accurate, this set shows she has a lot more to offer besides the folk label as her talent shows she truly has it all! Don't believe me? Check her out live in person in which I dare you to prove me wrong.
Setlist:
    It All
    Swingset
    Escape
    Whim
    Bad Thing
    Such Great Heights
    Alberta
    But A Memory
Pick up a recording of this show by clicking here.