Amanda X 06-13-14 (Live @ Rough Trade NYC)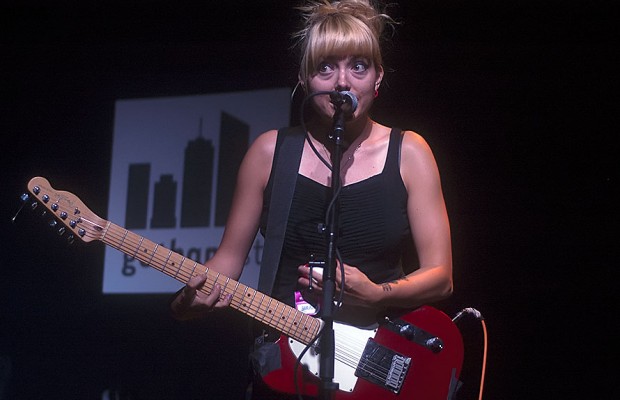 Next up on my day 2 Northside run was my very first visit to Rough Trade (not many venues in NYC exist that I have not seen a show at) to catch the awesome Philadelphia-based Amanda X.
As IMR regulars know, I discovered them this past Record Store Day. So when I saw they were coming up from Philly, I knew I would make their show & I am glad that I did.
I was impressed the first time I saw them but this set was so much better as they sounded even tighter through a fantastic 8 song set. They opened up with a great version of Paranoia.
Next up was one of my favorites Nothing Wild as I absolutely love Kat's backing vocals which really do it for me. Golden West sounded extra good during this set, especially my favorite part of the song which is the slow build first verse.
The set ended with the new single Guatemala which is off their upcoming debut album Amnesia which comes out on August 5. As with the studio cut, their version of this night had a nice scruffy Pavement like guitar sound to it that is remeniscent on a lot of their material.
Sadly the set was over much to the dismay of the crowd who definitely wanted more of Amanda X & who could blame them as Cat, Kat & Tiffany bring the goods!
P.S. Normally I would have some video to share but with it being a venue run by the pricks at The Bowery Presents, I was shut down from recording even though I was press!
Setlist:
Paranoia
Nothing Wild
Low and Mean
Trouble
Parsnip
Golden West
Dream House
Guatemala