Erika Wennerstrom 03-29-18 (Live @ Brooklyn Bowl)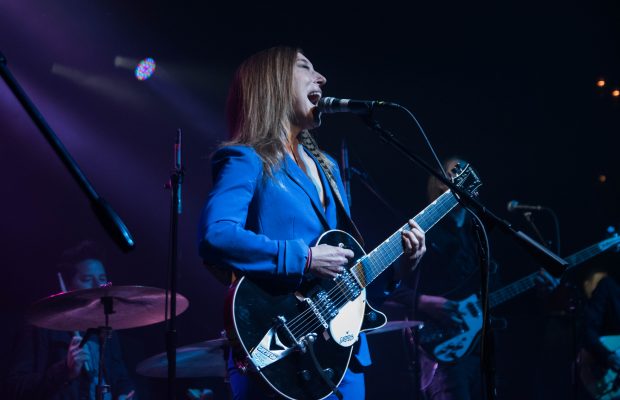 I recently had the pleasure of making my way to Brooklyn Bowl for the first time ever to cover Erika Wennerstrom opening up for her good friends the Drive By Truckers on the first night of a two night engagement. She is currently on hiatus from the Heartless Bastards as she tours on her solo debut album Sweet Unknown.
Erika hit the stage at 8pm sharp in a very nicely tailored royal blue suit which screamed that she was the chief of this stage & completely confident in the fact that she was going to wow the audience with her music from start to finish & that she did!
I was happy she opened the show with Twisted Highway, the opening track from Sweet Unknown. Not only is it my favorite track from the album, it was the perfect tone setter of the heights that would be soared to throughout the night.
One of the lighthearted moments of the set was when she started to sing her cover of Townes Van Zandt's Be Here To Love Me to only realize she initially forgot the lyrics. After a short time of enjoying the realness of how even the most talented artists can forget the words, she & the rest of the band proceeded to do an awesome version of the song.
Some other highlights of the set included fantastic versions of Sweet Unknown tracks such as Be Good To Yourself, Extraordinary Love & Like A Bird. Of the 3 tracks, Extraordinary Love especially stood out to me on being perfectly done.
What really stood out to me was Erika's amazing vocal delivery which gelled with the immensely talented band she had backing her. She clearly had unlimited confidence in her stage presence & was having so much fun that I am sure she wished the night would never end. Judging by how everyone in the crowd reacted, the feeling was clearly mutual!