Jackpot, Tiger 04-19-14 (Live @ The Bowery Electric)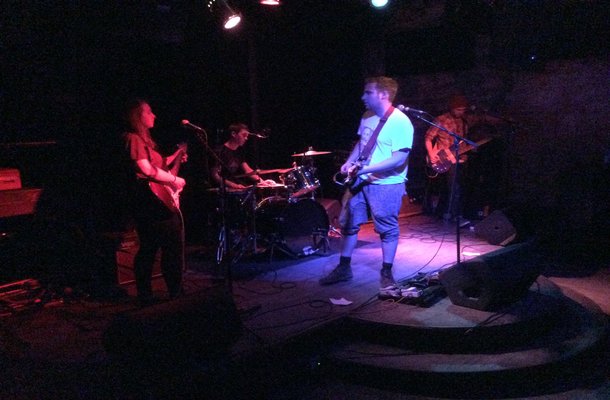 My next scheduled stop on Record Store Day 2014 had me stopping at The Bowery Electric for a long overdue helping of Jackpot, Tiger. Long time readers know my love for the band has been going strong since discovering them in 2012 at the Knitting Factory.
With the band just recently dropping the first single Caught In Love off its self-titled sophomore album (review coming soong!) due out next month, I was excited to hear how the new material sounded live. I warned up for the festivities by listening to the album on my railroad trip into the city.
The show opened up with one of my favorites off the new album, Not Crazy. I was hoping this song would be played so I was happy to hear it from the outset.
Alexs guitar intro was enjoyable but what really makes this song is the pulsing drums that go along with the strong & deep bass. Claire's vocals mesh so well with the beat. The live performance translated the album version exceptionally well.
Next up was the new single Caught In Love. The performance definitely featured the same & fun energy as on the studio version. I really enjoyed the harmonies as they along with the song have this radiant energy to them. My only complaint is what happened to the mention of that pesky handicap parking pass!
Now it was time for an oldie as they played In Like A Lion. I've always preferred this track live versus the record version as it just comes off as being more fun & enjoyable to get into. Their performance of it at this show continues to cement this very belief.
Alone With You is a track I highly enjoyed. The verses have this quiet intensity built around a deliberate pace that builds to the chorus. Eryck's solo really helped bring together a nice melodic ending.
I was so happy to hear Please Protect Me. As you know from previous show reviews, I have been in love with this song since I first heard it. The intro has always been one of my favorite aspects of the song.
Claire's guitars start off with the simple yet beautiful tone before Alex kicks in with his soothing guitars that hit the spot. The song seemed to have an extra punch to it which really helped it stand out on this night.
The finale saw them go to their familiar closing number, A Monster Lives In Here. Besides serving as a great finale song due to the energy & pace of the song, it is obvious a favorite for them to play. They have so much fun playing the song which you can't help but feed off of.
Overall it was a great set as it felt good to get some live Jackpot, Tiger back in my life. I look forward to seeing them a bunch this summer as they play in support of their upcoming album.
Setlist:
Not Crazy
Caught In Love
In Like A Lion
Easy
Alone With You
Hey, Remora!
Please Protect Me
A Monster Lives In Here
As a special treat, click here to watch the entire show!