Maddy Wyatt 10-18-13 (Live @ American Folk Art Museum)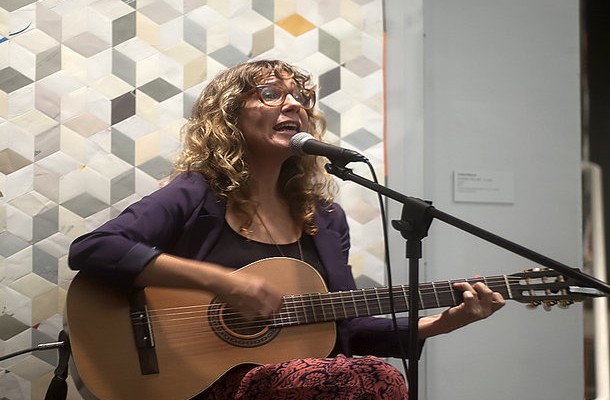 My next stop had me making some personal history as I had never been to a museum to see a live show before. After a brief charging break, I made my way to the American Folk Art Museum in the Upper West Side for some more Wyatt albeit in solo form. This was the first time seeing Maddy play solo so I was interested in how the songs I know & love would sound like.
I got myself a front row seat & enjoyed what was an amazing 8 song set that opened up with Good Fight. The feel of this song was different with it being solo but I must say I really enjoyed it. Next up was Trouble which sounded amazing. I have always wanted to see this done solo live after seeing a video of her doing it on Youtube sometime ago. As I have mentioned, I will never get over this song!
After hearing Maddy do Nobodys, I am convinced that this song was meant to be done solo as everything about this performance of it was perfect. If I am not mistaken, Fallow Heart was an old song. I know that I have never heard it before but I really liked it.
The next to last song was a duet with Michael Wagner titled Still. This was a beautiful number that featured great chemistry between Michael & Maddy. One would think these two have played together a lot. I would definitely be interested in seeing the two of them team up for an extended set.
Maddy definitely saved the best for last when playing a brand new Wyatt song titled Bad Dream. Her voice had this desperate tone that perfectly matched the lyrics. I was absolutely moved by this song & really hope it gets officially released. I'll be honest in wishing that if it does get released, it is a solo song as she is all that it needs!
I am glad that I made my way to this show as the last song alone was worth the trip much less the rest of the amazing set. If you get a chance to catch Maddy solo, do so as you will not regret it!
Setlist:
Good Fight
Trouble
Octopus King
Nobodys
?
Fallow Heart
Still
Bad Dream