Sleepy Kitty 01-24-14 (Live @ Cake Shop)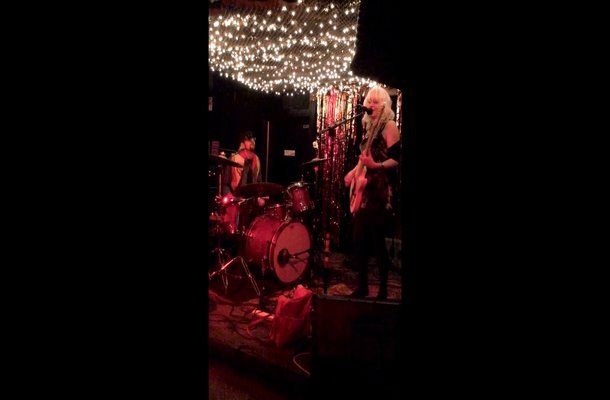 Picture this NYC October 2013, the CMJ Festival is ongoing & I am in one track mode which was to see Sleepy Kitty. After the show, I was already wishing it was January as I could finally hear their new album & see them perform again. So when I found out about their NYC record release show at Cake Shop a few weeks prior, I was beyond excited!
The show opens up with Python Queen which led directly into my personal favorite Speaking Politely which I could listen to Paige sing everyday until the end of time & never get sick of it!
Next up was Mockingbird which had a fresh killer sound to it especially in terms of Evan's drums. Seventeen is just pure rock awesomeness on so many levels. Paige's guitar work just grabs you immediately & the powerful drum work makes sure you can't escape her clutches.
Hold Yr Ground had a real nice subdued feel to it on this night. The feel of Paige's guitar solo was very mellow & chill which fit the vibe of the room perfectly. The song was perfectly placed on the setlist as it was a nice catalyst for the last two songs.
In my opinion All I Do Is Dream Of You is a song that was meant for Paige to sing. Her voice fits the song perfectly & that was definitely the case on this night. My favorite part is how she sings the end as it would make even the coldest person melt.
Don't You Start closed out the set. I definitely agree with this song being the finale as it starts off slowly & builds up the pace throughout to a great ending. Evan's drums really catapulted the song to new heights. I especially enjoyed him standing up towards the end while singing the title repeatedly.
Sadly the worst part of the set was the fact it was over! I could watch & listen to these two play forever as their chemistry is off the charts both live & recorded. If you ever get the chance to see Evan & Paige, do so as you will be rocked forever!
P.S. Make sure to check out my interview with Evan after the show by clicking here.
Setlist:
Python
Speaking Politely
Mockingbird
Seventeen
Hold Yr Ground
All I Do Is Dream Of You
Don't You Start