Slothrust 06-12-14 (Live @ Shea Stadium)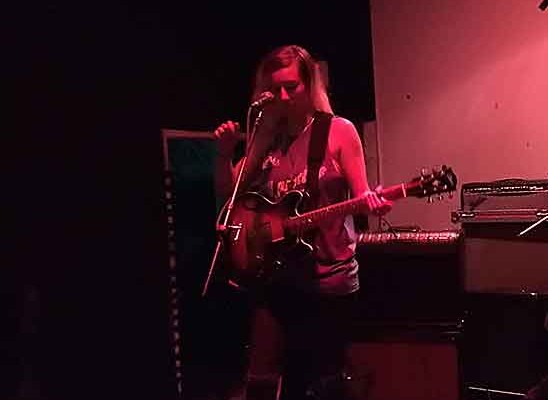 My obsession with Slothrust is the world's worst kept secret ever since I discovered them a little over 2 months ago by accident on Record Store Day at Shea Stadium. Since then, I have made most of their shows. So when I saw they were playing Northside, you just knew nothing would keep me from going.
After leaving The Silent Barn, I took a roundabout way to Shea Stadium to kill some time yet get there at the perfect moment to stake out my spot. I got a great spot for their set which kicked all sorts of ass like it always does.
As usual the band opened up with Intro which well what can I say but that it serves as a perfect intro to let you know how much they will rock out for the remainder of their set.
Cubicle had a nice pop to it especially Will's drums which really helped set the tone. 7:30 AM sounded great as well. My only complaint was the distracting crackling noise due to the stage having some technical issues.
For Marshall is an interesting song to me as although the studio version is nice, it comes off better live. It is one of the songs that definitely tells me Leah has a lot of appreciation for blues guitar. The blues vibe in the verses with the deep bass really hit the spot before going to a harder chorus. Also how can you not have fun with her somewhat rapping towards the end. Also I will always respect someone who wants to use a "wish for an ass big enough for the whole world to kiss". I am with you 100% there Leah!
Magnets Part 1 & 2 sounded awesome as always. Part 2 is actually one of my 3 favorite Slothrust songs as the opening verse is very moving if you allow yourself to take it in.
I will be the first to admit that I did not spend much time listening to Black Sabbath although I do respect them. However I must say that Slothrust's version of their song Electric Funeral is leaps better than the original. They found a way to take it & make it sound completely their own while paying homage to the original which is not easy to do.
Now it was time for another one of my favorites Crockpot. I am so thankful that this song is pretty much a staple of every set as I will never get sick & tired of hearing or seeing it. Kyle's bass opening & carrying of the first verse is heaven to my ears. When Leah's guitars & Will's drums kick in, the timing could not be any better. What I really love about seeing this song live is how it slowly builds up to an explosive ending where Leah & Will take over. Quite honestly, this song should be their closer as you can't top it.
Whatever you do, if you get the chance to see Slothrust live you must as you will be forever addicted!
P.S. I felt bad for the girl begging to hear 7:30 AM at the beginning of Crockpot as she was 5 songs too late. Maybe next time…..
Setlist:
Intro
Cubicle
7:30 AM
For Marshall
Homewreck Wifey
Magnets Pt 1.
Magnets Pt 2.
Electric Funeral
Crockpot
Beowulf
Click here to watch the entire set!