Slothrust 10-21-14 (Live @ Baby's All Right)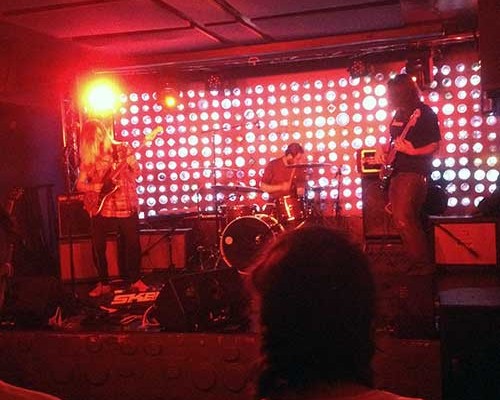 CMJ 2014 was finally upon us & I was roaring & ready to go. After going through the official CMJ app and other sources (truth be told, the app never gets the full schedule right), I knew my first show appearance would be to see Slothrust play the Tell All Your Friends PR Showcase at Baby's All Right.
Unfortunately I arrived late to the proceedings (the start of a nasty trend that lasted all week) as I was stuck in traffic on the FDR in a cab no less. By time I arrived, I had missed the first half of the set.
However I caught a fantastic second half that included new material which I am super pumped for as I can already tell at least one of them will reach super favorite status which is permanently filled by Crockpot, Enter, Rejoice, And Come In & Magnets Pt. 2.
The crowd was definitely receptive to a great set which included yet another powerful performance of the aforementioned Crockpot (I will never get tired of hearing & seeing this song live!). Beowulf sounded off the charts as well. As a fan once said at one of their shows, SLOTHRUST FOREVER!!!!
Setlist:
Intro
Cubicle
7:30 AM
Like A Child
Everyone
Pigpen
Crockpot
Beowulf