THICK 06-09-18 (Live @ Alphaville)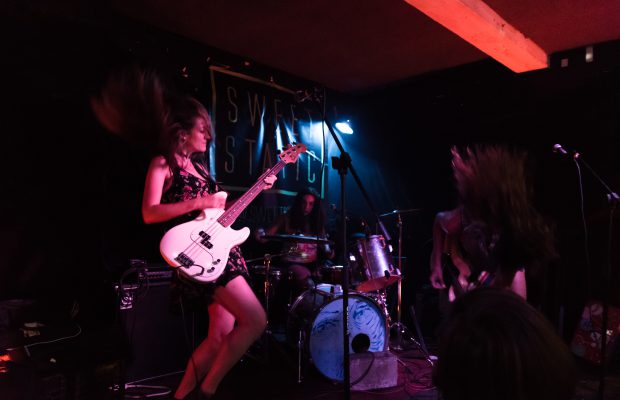 Headlining the Sweet Static Northside Showcase at Alphaville was the highly popular & loved punk trio of Nikki Sisti on guitar, Kate Black on bass, and Shari Page on drums better known as THICK. While their studio music sounds awesome, their reputation was built on the high octane in your face live shows they put on.
Their performance of Alphaville delivered on that front with a dazzling display of shredding, screams & beautiful harmonies as they showcased old favorites like Anymore & Wasting My Time from their 2016 EP It's Always Something.
However we definitely got treated to the newer material such as Hot Bod & LYFE from their recently released EP Would You Rather? We even got a treat of a new song called Makes Me Sick featuring Shari on lead vocals which was a surprising twist.
What makes THICK one of the best bands to see live is besides the in your face high octane energy you get, crowds can't help but notice the tight cohesion of the band not only musically but in terms of actual friendship. They are genuinely having the time of their life up there entertaining everyone while singing songs with lyrics that many can relate to. No one can deny that THICK is making punk fun again!